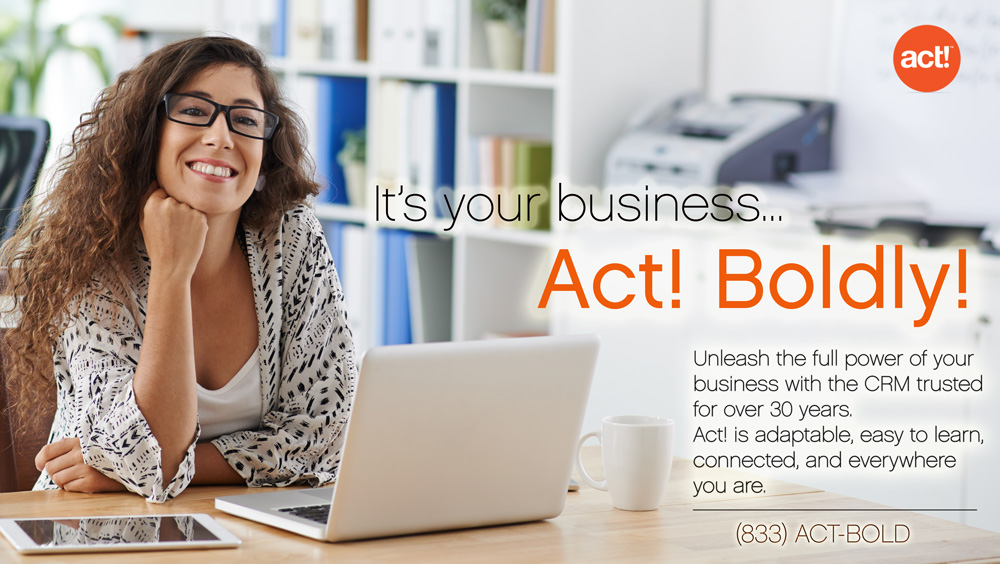 Act! Contact Management Software. Affordable and easy to use, Act! has been trusted by millions to boldly drive sales results through better organization, automation, and marketing – in the office and on the road.
Act! CRM is a great product with unparalleled flexibility, power, and capability, but no two business's needs are exactly the same. This is why choosing the right business partner for your CRM implementation is just as important as picking the right
CRM. Keystroke has the experience and resources to boldly deliver industry leading development, implementation, and support services to ensure your Act! solution is tailor made to fit your business's unique needs. In fact, we've published over sixty Actcessory products to help our customers Act! better.
To complement our host of services, Keystroke also partnered with J2X Technologies, the publishers of Handheld Contact, to make the best mobile solution for Act!, even better, and yes, bolder. We believe Keystroke is now uniquely positioned to deliver superior CRM solutions for your desktop, web, and mobile devices. Better productivity, efficiency, and accountability are within reach with Act!

Dream Big, Plan Well, Act! Boldly!
From industry verticals, custom table technology, to leading mobility solutions, Keystroke can help you Act! Boldly!
What does the bold new Keystroke Orange mean to you?
A bold new Keystroke Team
The largest Act! sales and support team in the world, with a wide range of services that include English & French Act! support, customization, conversion & repair, development, training, project management, hosting, business consulting, automation, e-marketing, and expertise in "Actcessories".
Whether you're an individual user, a small to medium size business, or a public sector organization, we have bold CRM solutions to optimize your team's productivity, efficiency, and accountability.
Makers of Handheld Contact - the boldest mobile solution for Act!
Track and manage contact information with Handheld Contact - the mobile extension of your Act! database. Whether you use an iPhone, Android, Blackberry mobile device, or even an iPad or Android Tablet, Handheld Contact puts all your vital contact, calendar, notes and history at your finger tips, and ensures you're alerted to activities and events in time to respond. Takes notes, record histories, send emails or text messages, and have all these customer communications synced back to your database — it's like taking your office with you.
Bold Act! Hosting solutions that blend performance & value
Keystroke is more than simply an Act! Certified Hosting Provider, we're Swiftpage's exclusive Hosting provider for Canada with industry leading technology, service, and support. Our services allow you to autonomously onboard your own database, host Handheld Contact for all your users, alert you to user inactivity or sync issues, and provide you maximum flexibility for deployment. All while offering the most competitive rates in the industry.
Bold new Actcessories help you Act! better and faster
Keystroke's bold family of Act4 products provide customized industry solutions for mortgage brokers, financial advisors, real estate agents, and tech support professionals, just to name a few. The important common denominator for all of them is the "Knowtifier", quite simply the most powerful & easy-to-use automation tool for Act!. Create set-it-and-forget-it automation that your business can rely on.
If there is a gap between what Act! can do out-of-the-box, and what you need it to do, our development team can bridge it.