WORKFLOW SOLUTIONS
THAT WORK FOR YOU
COMBINING CRM AND MARKETING AUTOMATION,
WITH LEAD GENERATION, CAPTURE & CONVERSION TOOLS
Whether you're looking to generate leads with marketing automation, capture leads with online forms, surveys, and calendar links, or convert them with an online quote system, all leads should flow back to Act! - the CRM trusted by millions for 35+ years! Learn how Act! can work for you!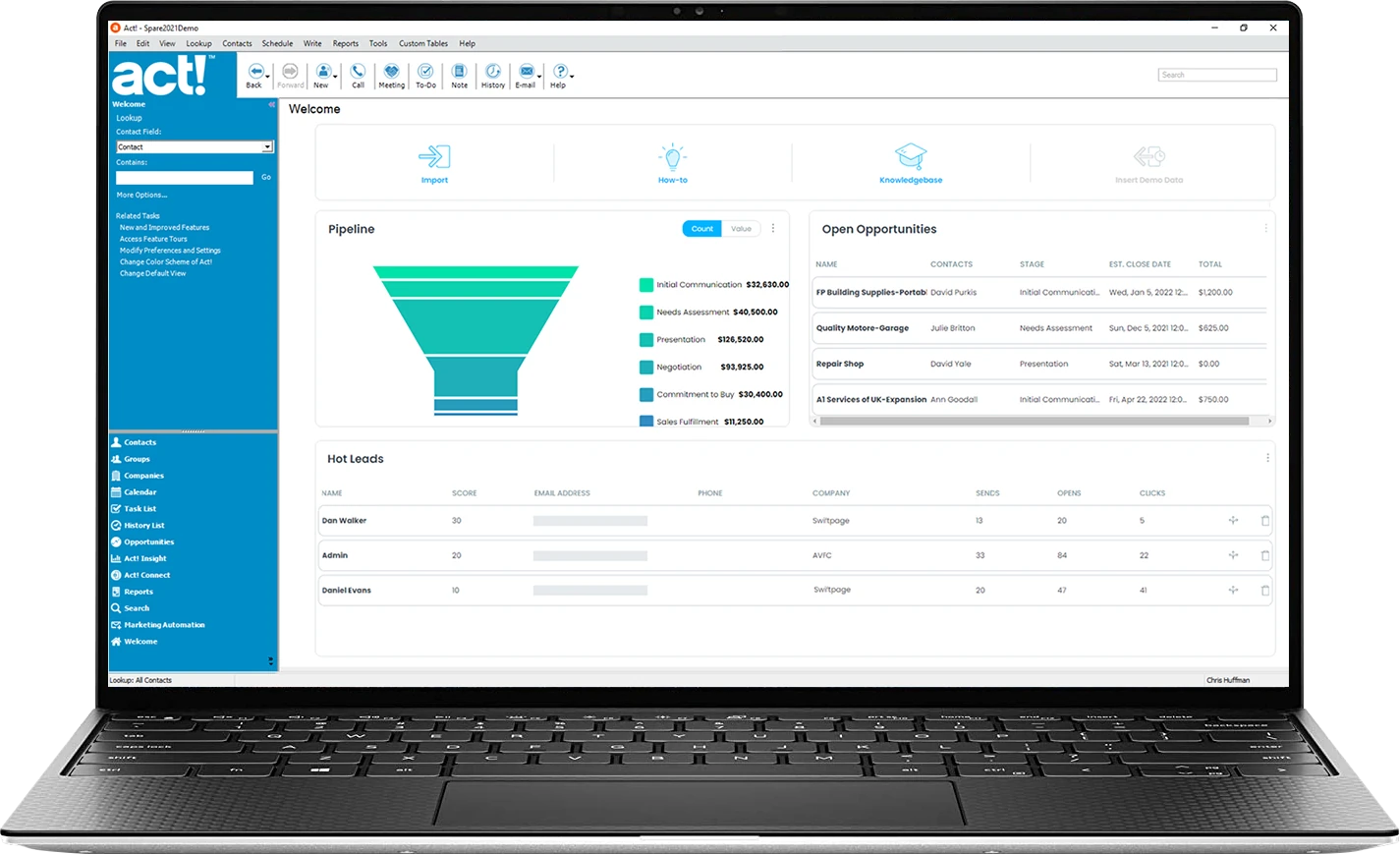 1
A welcome screen with most important information displayed in an easy to consume manner allowing users to manage their day and stay on top of crucial tasks.
2
Drill through to Act! List views or send dashboards to PDFs with one click for further analysis.
3
New users have the ability to insert demo data to experience Act's full potential right away.
4
Hot leads are populated from your Marketing Automation activity in real time, including email opens, email clicks and landing page form completions.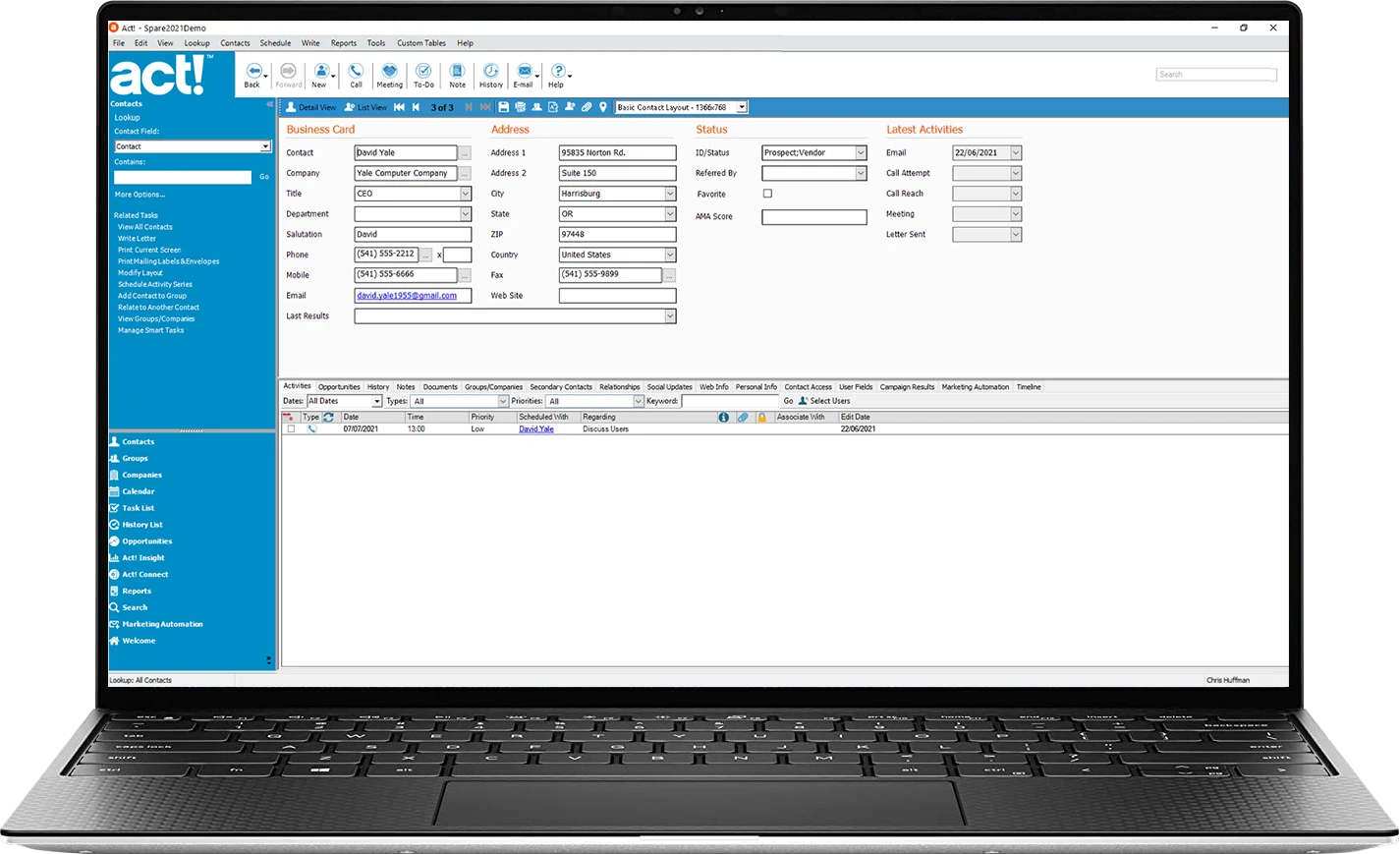 1
Keep rich contact details in one easy to find place – the Act! Contact Record.
2
Capture and easily reference complete relationship details, including activities , opportunities, history, notes, documents and more.
3
Find what you need with powerful search capabilities.
4
Navigate to all Act! features from the side bar with ease.
5
Creat new contacts, calls, meetings and more with quick action buttons.
6
Unlock the full potential of Act! with custom tables, enabling you to bring complex data sets, unique business processes and specialized industry pratices together in Act!.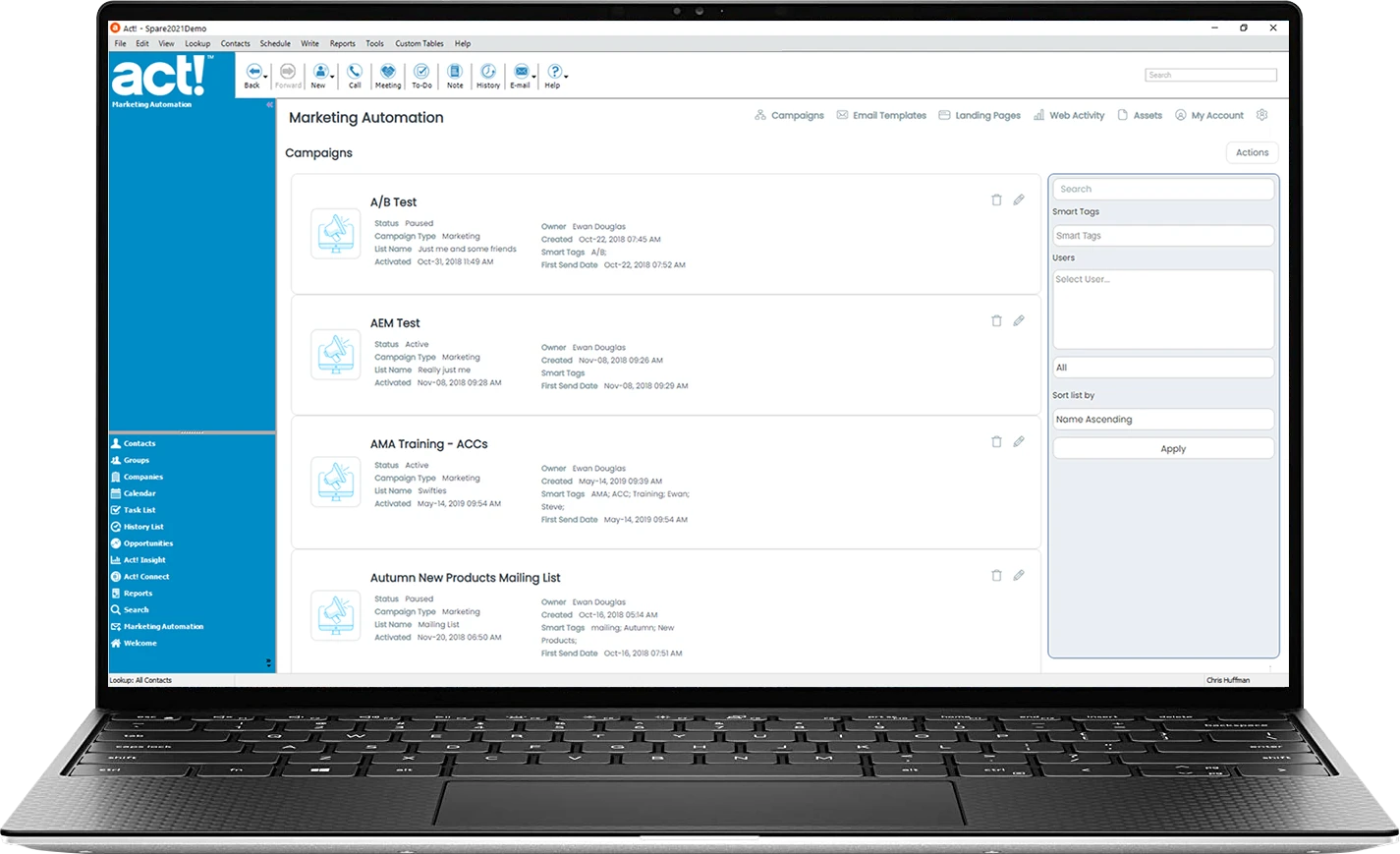 1
Select from pre-built campaign workflows with all steps included and relevant email templates attached.
2
Get started with 170+ mobile responsive email templates that fit your industry, business and communication style.
3
Build highly personalized, responsive-driven nurture marketing campaigns with decision trees and one or more actions to let Act! Marketing Automation do the work for you.
4
See the interactions of both identified and anonymous visitors on your website today, yesterday, this week, last week or the last 30 days.
5
Creat new contacts, calls, meetings and more with quick action buttons.
6
Measure engagement of YouTube videos and PDs to pinpoint your companies most impactful marketing assets.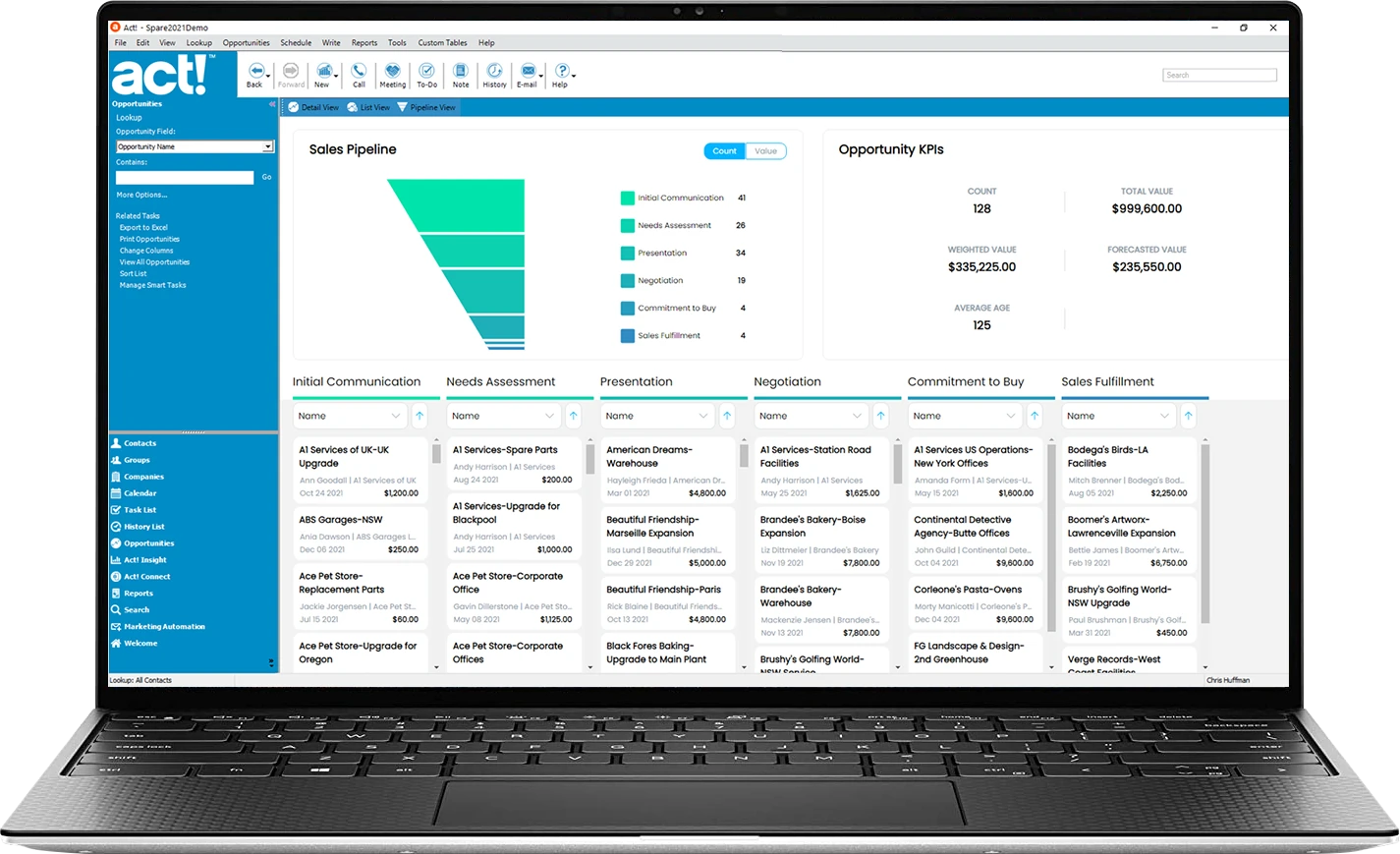 1
Forecast and track sales opportunities to stay on top of all new leads.
2
View your opportunities in detail, list or pipeline view.
3
View the total count and value of all open opportunities in your pipeline view with the interactive sales funnel.
4
Focus on the most relevant sales details with in-context KPIs that provide an instant roll-up of metrics based on filters you apply.
5
Focus on the most relevant sales details with in-context KPIs that provide an instant roll-up of metrics based on filters you apply.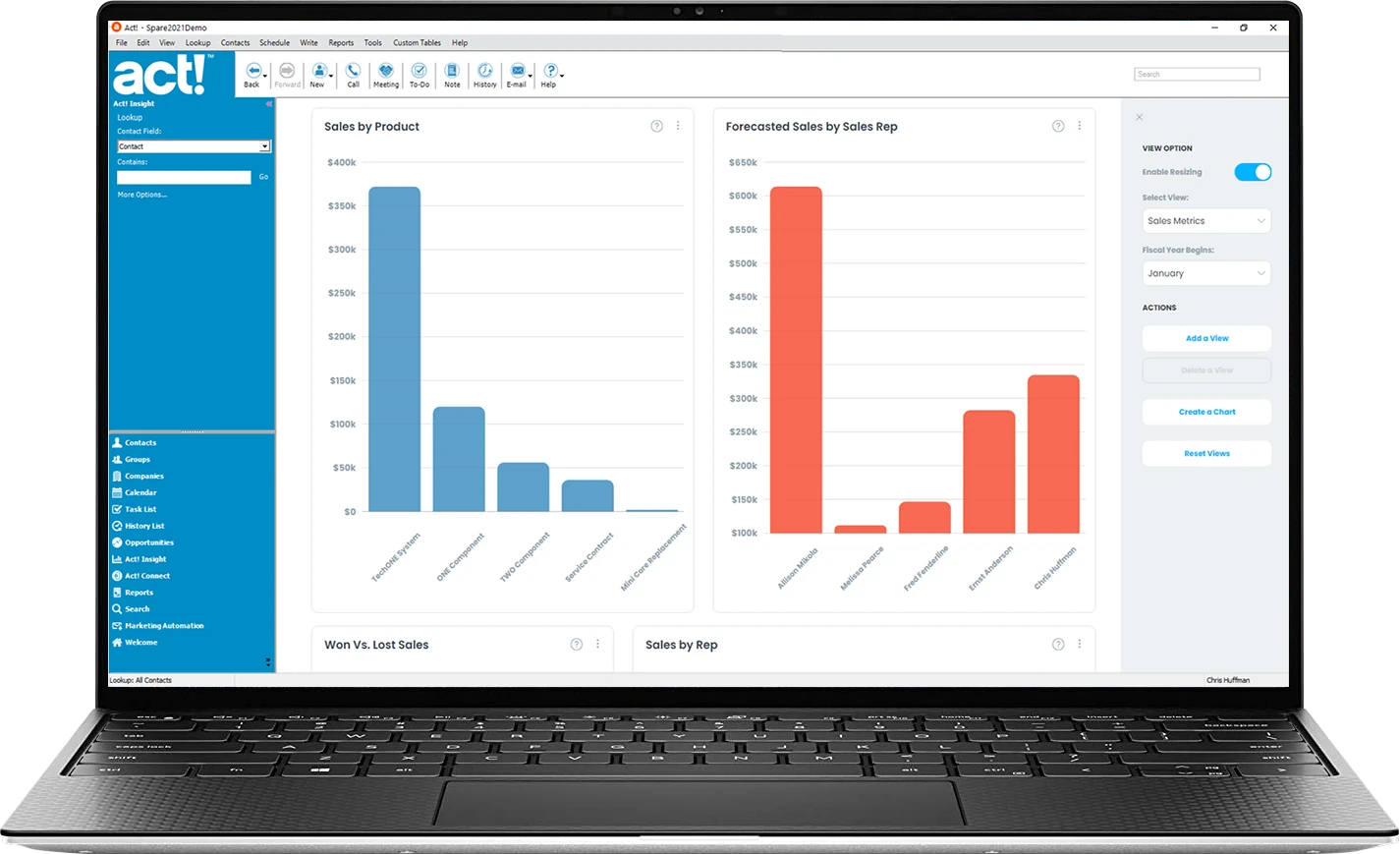 1
Guide decision making with rich, actionable insights from interactive, graphical Act! Insight dashboards.
2
See dynamic, visual snapshots of real-time metrics covering sales productivity and performance, sales pipeline health, top performing products, win/loss analysis and more.
3
Personalize your dashboards with filter for date range, activity types, products and users shown.
4
Drill-through to Act! List views or send dashboards to PDF with one click for future analysis.
5
Dig deeper with preconfigured reports with the report designer. Export reports to Microsoft Excel, html, pdf and email.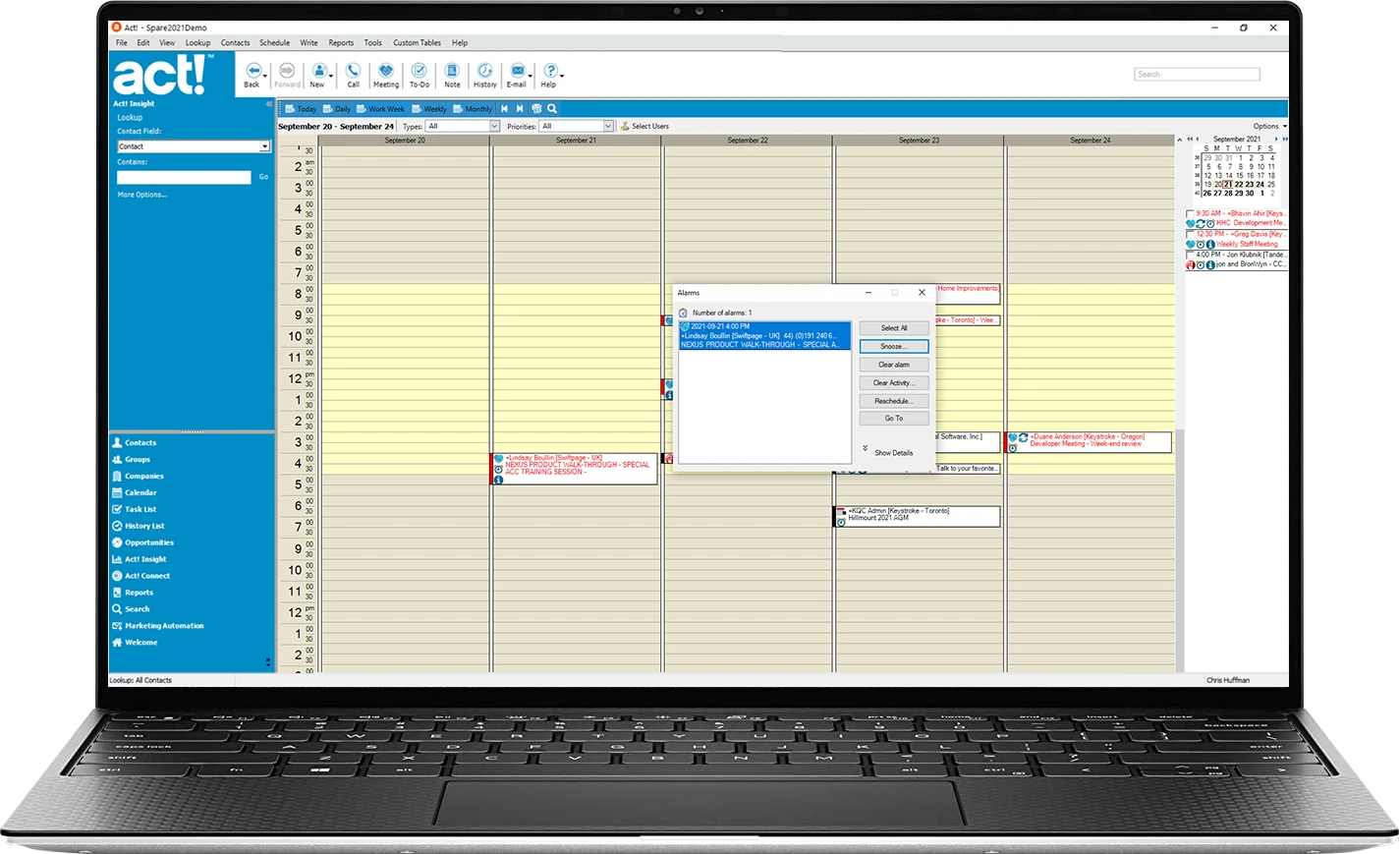 1
Easy activity alerts with numerous response options.
2
Activities displayed clearly in your choice of calendar views - daily, weekly, work week, or monthly.
3
Drillable task lists organized from your calendar view.
4
Handy drillable mini-calendar for toggling back and forth months at a time.
5
Easy one-click calendar selectors.
6
Choose what filters you want to apply to your calendar view to customize what you wish to see.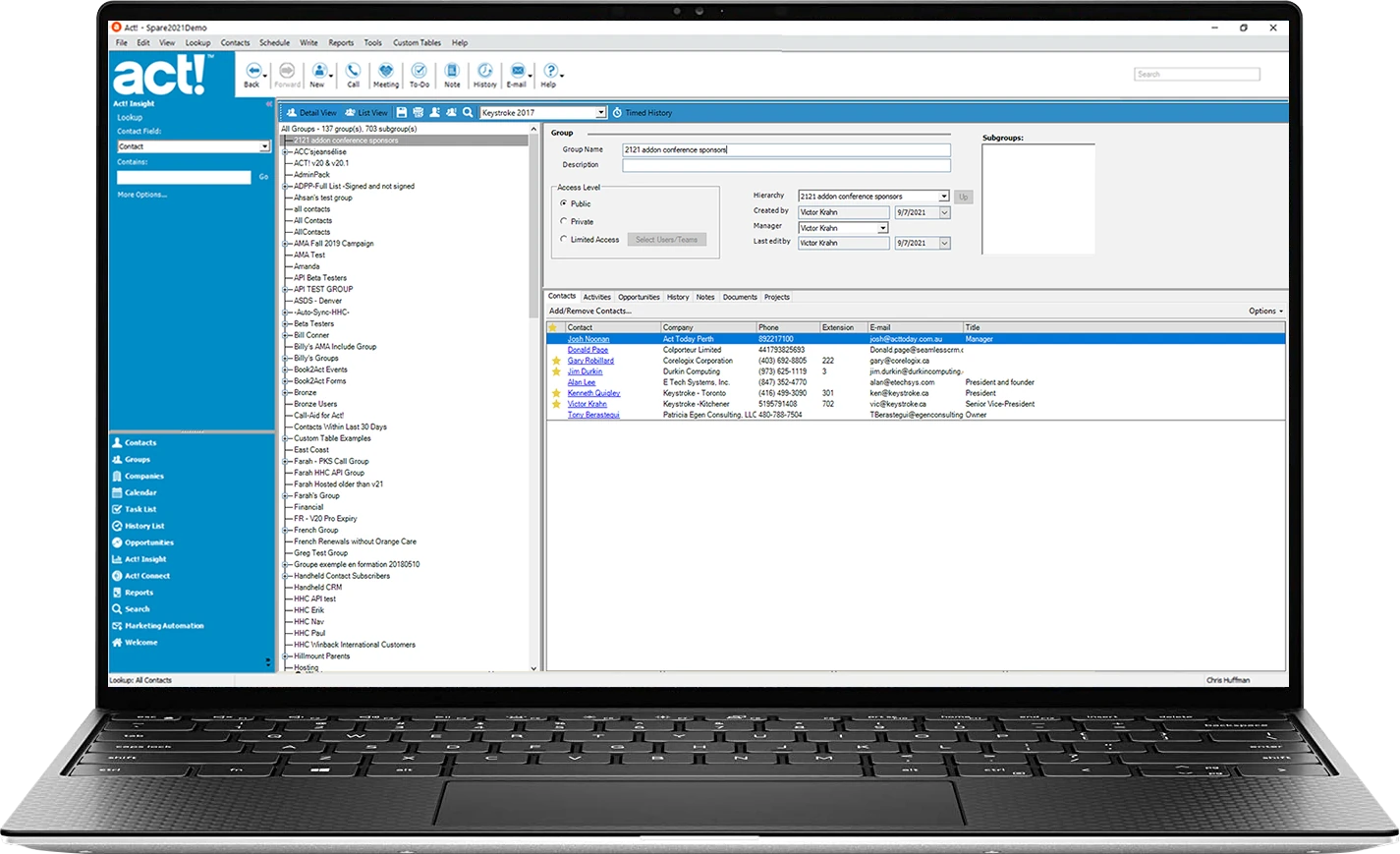 1
Populate groups manually or dynamically based on field values.
2
Segment your database for marketing purposes.
3
Create Subgroups to organize related groups.
4
Create Groups of Contacts dynamically based on custom table values.
5
Control who has access to each group for added security.
6
Add notes, Histories, Documents to each Group.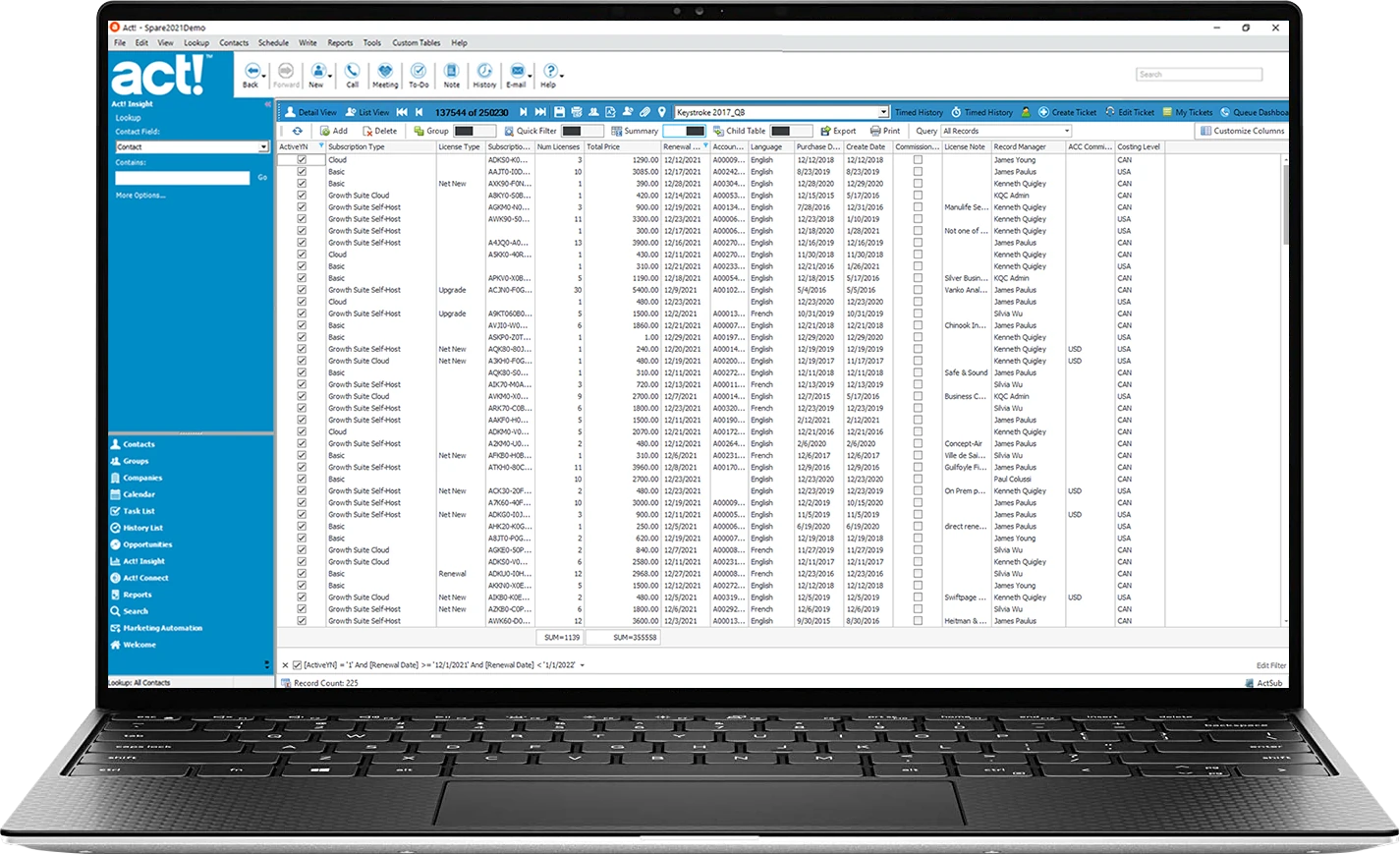 1
Organize transactional data like a spreadsheet under contacts, companies, groups, and opportunities.
2
Calculate column totals, averages, minimums and maximums, and count.
3
Use Quick Filter to find values across all columns
4
Use Column filters to narrow your data view by a particular value, like Record Manager.
5
Group records in Act! by custom table values.
Act! & Marketing Automation

Together as one for small business success!
Sell, service, and market for success with the CRM and Marketing Automation solution used by millions for 30+ years. Combining the power of Act!, Act! Marketing Automation, and the Act! Web API to connect to productivity tools like
Linktivity
, your business will have the ultimate toolset to build relationships, generate leads, convert sales, be accountable, maximize engagement, and drive growth. Online or on-premise, Act! is everywhere you are.
Start your trial today!Related links:
Customer Success Stories
,
Why Choose Act
!,
Why Choose Keystroke
,
Test drive Act! Cloud now!
,
Why our customers love Act!
, and download
Act! Premium v24

Actcellerate your CRM success with Keystroke Add-ons
Whether you need accounting integration, custom tables, enhanced reporting, integrated project management, industry verticals, automation, or emarketing, experience has taught us that customers who leverage add-ons, get more out of Act!. This is why we produce more add-ons for more purposes and for more people than most other vendors combined. With over one hundred add-ons both Act! for Web and Windows, we have a solution to actcellerate your CRM success faster, easier, and for less.
Related Links: Act! Marketplace, Featured Products, Linktivity products, Handheld Contact, and Act! Add-ons.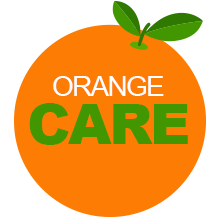 "Orange Care" - Annual Support
The Keystroke Orange Care Support Plans are perfect for our Act! teams because it ensures they have the support they need, when they need it. Whether break/fix or setup/upgrade, the Orange Care Support Plans deliver support and cost certainty for our customers. PLEASE NOTE: VIP and Orange Care support plans are limited to Keystroke customers who have purchased Act! or subscribed to Act! from us, or are current Act! hosting customers. Inelible online purchases will be cancelled. Orange Care det...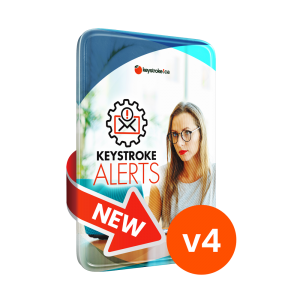 Keystroke Alerts 4.x
Keystroke Alerts is a notification program for Act!, Windows or Web. Alerts monitors activities and opportunities in your Act! database and sends customized email notifications. Keystroke Alerts is designed to be installed on the server where Act! resides, but will also work on an individual workstation. Only one license of Keystroke Alerts is needed to alert every user in the master database. Keystroke Alerts automates the report process, saving you time and administrative resources. Customize...
Keystroke VIP Club
The Keystroke VIP Club Plus is an annual membership that was inspired by new Act! customers needing some "kick start" help with their deployment or upgrade. The premise is simple, and one that will provide customers cost savings, peace of mind, accelerated productivity, and get their Act! deployment started quickly, efficiently, and securely. * VIP Plans can be used to support both Act!, Handheld Contact products, and other Keystroke add-ons. VIP Diamond plans can be used for AMA suppor...
Keystroke Tables - Desktop
Keystroke Tables - Desktop is the best custom table solution for Act! users who only work on the desktop AND want a low one-time price. Keystroke Tables for Desktop uses the same technology as our regular Keystroke Tables (Dual Access) add-on and Act! Premium Plus, but has no support for publishing data to the web. Custom tables have been around since Act! 2008, and is a stable and mature technology that significantly increases the data management capability of Act!, and becomes part of your d...
Keystroke Tables
Keystroke Tables is the new standard for custom table in Act!, as it's the same technology used in Act! Premium Plus. Not only is it the solution that most of our industry Actcessories are built upon, it is the easiest way to get the most out of Act!. Custom tables have been around since Act! 2008, and is a stable and mature technology that significantly increases the data management capability of Act!, and becomes part of your database that is upgrade tolerant and completely customizable to ...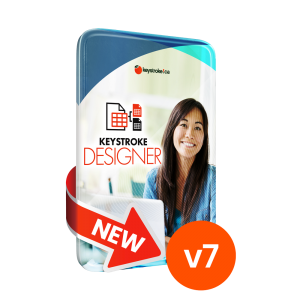 Keystroke Designer 7.x
** Act! v24 compatible ** Expand the functionality of Act! with custom tables for tracking customer service, support, projects, manufacturing and more. Keystroke Designer allows you to add custom tabs at the contact, company, group or opportunity level - quickly customizing Act! with specific industry and management solutions. Keystroke Designer includes templates for industries such as real estate, healthcare and financial management along with general management solutions such as contracts, e...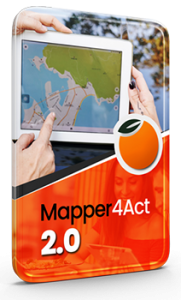 Mapper4Act 2.0
In late 2018, Mapper was rebuilt with MapQuest technology that allows you to make 15,000 contact searches per month for free. If you need more you can simply upgrade your API key directly with MapQuest. In February 2019, we upgraded it further to improve the heatmap display, and reduced the price. Best part is there is no ongoing cost! Mapper4act lets you: monthGeo Coding: After creating a latitude field (Decimal) and longitude field (Decimal). Mapper will help you calculate the Latitude and...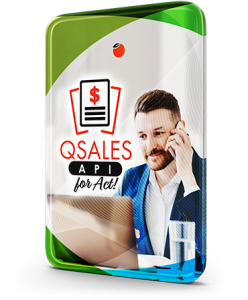 Qsales API
The new improved Qsales for Act! is here! Completely rewritten, the new Qsales API is now faster, more feature-rich, and 64-bit compatible. The best part of Qsales API is it can easily pay for itself with the money you can save on QuickBooks licenses. Like in past versions, Qsales seamlessly links your CRM and accounting data together to eliminate double-entry of data, and deliver more accounting visibility to your Act! users, which will make them more productive and informed. Unlike...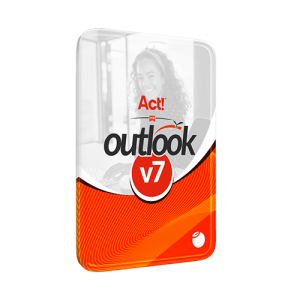 Act4Outlook 7.0
The best just got better. The top-selling Act! addon of all time has now been improved with MANY new customer-requested features, and is the biggest rewrite in the product's history. Rest assured, Act4outlook still includes superfast incoming & outcoming History recording; bi-directional copying of contacts, activities, & tasks; support for creating contacts & activities from emails, as well as the ability to create lookups in Act! from one or more emails. The new Act4outloook v7 n...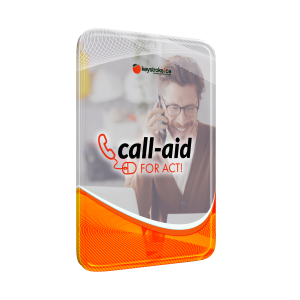 Call-Aid for Act!
Call-Aid for Act! is a Dialer Add-on that works with the Desktop Version of Act and with your VOIP softphone, Skype, Magic Jack, and even TAPI devices. Call-Aid makes dialing from Act! easy and accurate, while ensuring you and your team always are prompted to record the History of the call, as well as follow-ups, as required. Call-Aid is licensed per activation (one-time fee), and contains an integrated updater to easily receive in-version program updates. General use: Call-Aid is as si...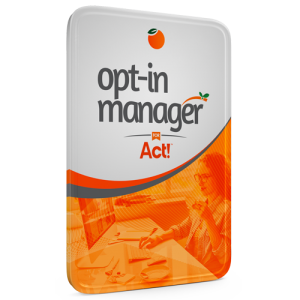 Opt-In Manager
A well scrubbed distribution list requires two levels of authentication, email verification and consent, and Opt-in Manager provides you the tools for both. The Opt-in Manager is a software application & online service that takes only a couple of minutes to setup before you can be broadcasting your pre-written opt-in request emails to all your contacts quickly and easily. No HTML, merge mail, or Outlook experience required! * NEW: Now available for Act! Premium Cloud with WebAPI inte...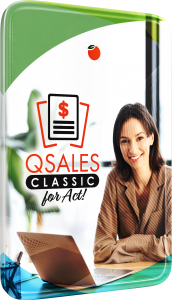 Qsales Legacy
Take your Business to the next level of efficiency by seamlessly linking your CRM and accounting data together. Keystroke's new Qsales Legacy links your Act! and Quickbooks applications together to eliminate double-entry and make your Act! users more productive and informed. Link records between Act! and Quickbooks Synchronize Contact field updates between Act! and Quickbooks Create QB Customers from Records in Act! Create Quickbooks Invoices, Estimate...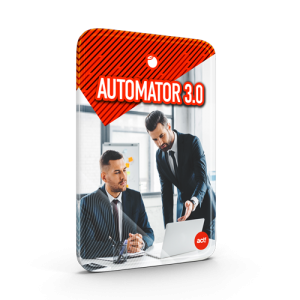 Automator4act 3.0
The brand new Automator 3.0 has been completely rewritten, and performs calculations, mail merges, creates notes or histories, and a whole lot more! Think of it as Macros for your Act! database. Automator is designed to make repetitive tasks simple, quick, and error-free. Specify Buttons for a particular task Perform multiple tasks with a single button Make tasks conditional with if/then statements Reference fields in the database within your actions Create lookups using data from the cu...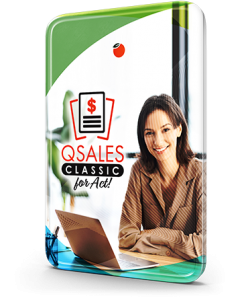 Qsales Classic
Take your Business to the next level of efficiency by seamlessly linking your CRM and accounting data together. Keystroke's new Qsales Classic links your Act! and Quickbooks applications together to eliminate double-entry and help make your Act! users more productive and informed. New Qsales Classic features include: Create or Edit QuickBooks transactions from within Act! Create or Edit QuickBooks Customers or Vendors from within Act! Improved search and...
Act4Mail
The Top Selling Act! add-on of all time has been updated to work through the WebAPI to access Act! Cloud databases, and has been rebranded as Act4mail! Yes, it's here. All the functionality of Act4outlook is now seamlessly integrated into Act! for Web. Act4outlook no longer requires MAPI integration and includes enhanced install shield. Less reliance on the native Act-Outlook integration delivers faster and more reliable performance, and now works with both 32 & 64-bit versions o...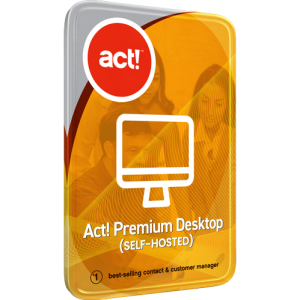 Act! Premium Desktop
USD $ 450.00
USD $ 380.00
** WinBack Promo for past Act! Customers only. Discount applies to first year only ** Act! Premium Desktop helps organize all your prospect and customer details in one place so you can prioritize your day and market your products and services more effectively, driving sales results while creating customers for life. Quickly tap into all relationship details, efficiently manage your calendar and opportunities, and send targeted e-marketing campaigns from the o...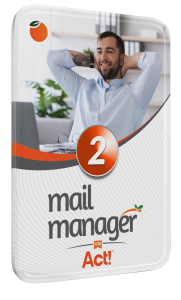 MailManager4Act v2.0
MailManager4Act! is a one-stop mail management solution that includes four programs in one, that are all integrated together to provide complete "client-side" email management. And each of these applications have been improved in the new MailManager4Act!, the key ingredients are as follows: Opt-In Manager Send Optin Emails to Contacts and update the Contact permissions in the database with 1 click. Lookup Contacts in the database based on email list Lookup Contacts in the database based on...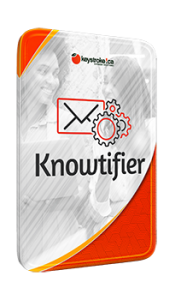 The Knowtifier
Knowledgable Notifications for Act! The Knowtifier delivers on the promise of truly automated customer notifications for birthdays, anniversaries, renewal dates, maturity dates, or any type of customer notification you'd like to trigger from Act!. What's more, unlike other automation products, the Knowtifer can trigger customer emails off of both contact and custom fields within Act!, and have those email notifications merge Act! data into the emailed notifications. Here's some fast...
Link2calendar
Link2Calendar provides users the ability to show customers when they're available with a personalized link. Customers will then be able to find a convenient time to book an appointment with you and do so online. That appointment will then appear instantly in your calendar. And now with a new redesigned, mobile responsive layout! Customers can click your URL and be presented with all the times you're available on any given day of the week. When they select one, they only have to enter some basi...

Our
Reviews
At Keystroke, our mission statement is to "inspire and support our clients ongoing success through quality software solutions". To that end, we believe your success is an expression of our own, so it's always gratifying when you take the time to tell us how we did. Over the last twenty-five years we've received a lot of grateful emails and written testimonials, and while they're all appreciated, here are few of our favourites...