$37.50
per month/per user
(billed annually)
Have questions about Act! v25?

What's new in
Act! Premium v25
Improved Business Insights & Communication
The long-awaited Act! v25 is here!
Act! v25 gives your business effectiveness a boost with improved reporting & marketing automation features, as well as new SMS text messaging capabilities. Easily create new analytics dashboards to gain more meaningful insights from your data and react quickly to changing business conditions while taking customer communication to the next level.

Act! v25 also includes a number of platform improvements to increase performance and usability.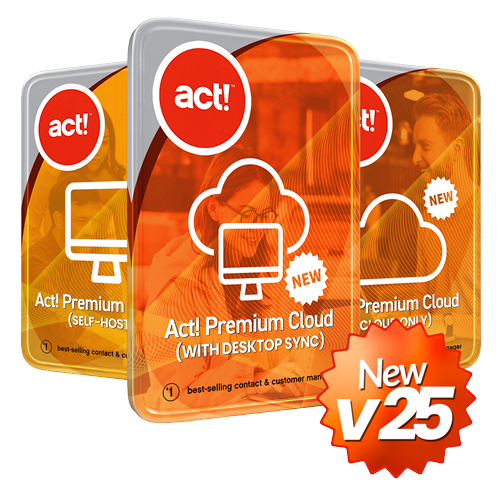 Richer Insights
Create new analytics dashboards to visualize more of your data
Gain more meaningful insights
React quickly to changing business conditions
Better Communication
Take customer communication to the next level with SMS Text Messaging
Enhanced Usability & Performance
ACT! INSIGHT ADVANCED DASHBOARD BUILDER
Actionable insights are vital to business success. Act! v25 introduces an advanced dashboard builder to Act! Insight allows you to quickly create more granular, custom analytics dashboards to visualize more of your data, gain more meaningful insights, and react rapidly to changing business conditions.
Features:
Advanced querying allows for multiple sets of criteria
Create new dashboards based on contact, group, company, and opportunity data
Pull in associated field data
Configure grouping
Add additional criteria as needed
Benefits:
Quickly create new analytics dashboards
Get granular by creating visualizations for previously unsupported data
Gain more meaningful insights
React quickly to changing business conditions
Important Notes (v25):
Windows, Web, API, and Office integration drivers are 64-bit native and requires 64-bit hardware and operating system
Act! for Web runs under 64-bit IIS mode, with significantly improved memory management (to be released in August 2023)
If upgrading from Act! v23 or older, users must reinstall 3rd party add-ons (64-bit compatible only). Customers are encouraged to contact 3rd party developers to confirm 64-compatibility, and whether billable upgrades will be required.
CUSTOM TABLE IMPROVEMENTS
Upgrades to custom tables were also bundled with Act! Premium v25, and include several new features and fixes to improve the user experience.
Tables4act no longer uses the problematic OLEDB Views for lists, using the standard SQL tables instead
Font settings can now be set for field values as well as labels (Windows)
Added report designer under Custom Tables > Reports. (Windows)
Added Charting support which can be accessed by pressing the Chart button on the custom table view. (Windows)


includes graphs & charts (click to enlarge the example to the right)
KPI's and Complex KPIs
Bug fixes:
Font settings for field labels were not saving correctly. (Windows)
Currency fields not showing the currency symbol when merging to MS Word or email, nor were they accepting 0 as a value in the web, or exporting to Excel correctly
Activity fields displaying as an ID in the list view
Calculated fields not displaying correct values in list view (especially age fields)
Records in the list view sometimes disappeared after a period of inactivity
Currency and decimal fields not displaying more than 2 decimal points in list view even if the field supports it.
Text messaging is an affordable and efficient way to reach customers and prospects alike. With open rates more than 4x greater than traditional email (98% vs 22%), it's effective as well, allowing even the smallest businesses to compete with much larger competition.
While text messaging is currently available as part of Act! Marketing Automation for US customers, SMS4Act! Allows Act! users to send ad-hoc text messages globally without having to build a full-fledged marketing campaign. All sends and replies are automatically tracked for reference and follow-up. Click to expand the illustration ABOVE.
Features:
Send ad-hoc text messages without the need to create a marketing campaign
Send to individuals or groups
Automatically track sends and replies in contact history records
Create text message templates and personalize with individual contact information
Send text messages for appointments, order updates, shipping status, event reminders, promotions, and more
Benefits:
Affordable, efficient, and effective
High open rates compared to email (98% vs 22%)
Avoid designing labor-intensive emails in exchange for personalized text messages
Track sends and replies for follow-up and reference
ACT! MARKETING AUTOMATION ENHANCEMENTS
Act! Marketing Automation has something for businesses large and small, from basic outbound marketing tools to dynamic campaign automation, response-driven sales activity creation, and much more.

As part of Act! Premium Desktop v25, we've made Act! Marketing Automation more intuitive and user-friendly for all users. Improvements include an enhanced campaign dashboard, new suppression list filters, additional date formats for mail merge, and improved list sorting.
Campaign Dashboard Enhancements:

A new Properties dropdown menu is now available to improve overall usability with options to Jump to Campaign, Jump to Campaign Dashboard, and Export all Email Campaigns.
Jump to Campaign – Allows users to access to email campaign editor to quickly make content or design changes.
Jump to Campaign Dashboard – Allows users quick access to the campaign dashboard to view more granular data around campaign success.
Export all Email Campaigns – Quickly export campaign data to .csv which is sent directly to the user's email.
Email Suppression List Filters:

To make it easier for Act! Marketing Automation users to zero in on the right data, we've added three new filters for suppression - Reason, Status and by date.
Suppression reasons include like bounces, spam filters, unsubscribes, and blocking.
Suppression status includes things like active or inactive.
Additional Mail Merge Date Formats:
Mail merge functionality is a time-saving option to personalize outbound marketing content.
In locales or industries where the 24-hour time format is preferred, users can now select this option on the fly or set it as the default option within the Account Properties settings.
New Email Template Sorting:
To make it easier for users to find email templates, we've improved load time performance and introduced four new sorting options. Users can now sort by:
Template Name Ascending and Descending
Last Edit Data Ascending and Descending
ACT! COMPANION IMPROVEMENTS
Available for iPhone®, iPad®, and Android™, The Act! Companion mobile app keeps users connected to their Act! database from anywhere.
To improve the overall mobile app experience for all Act! users, we've made a number of enhancements to the login experience, opportunity filtering, and Act! proximity search.
Log in Screen:
We've made it easier for users to quickly access the mobile app with the option to Remember Username. And a new blue background helps improve text readability.

Opportunities Filtering:
Act! Mobile app users can quickly review opportunities by status with new filtering, search for opportunities by opportunity name, and which filters have been applied.
We updated the filter when using the User option to make sure it is using the record manager for the Opportunity records. When you use the User filter option the results are based on the record manager for the records returned.
The Status filter option has been refactored to ensure the expected records are returned.
We added the ability to search for Opportunities by Opportunity Name.
Users will now see which filters are being used when looking in the Opportunity list view. The list of filters being used can be found in the white box showing the number of Opportunities being displayed.
Proximity Search:
Act! Proximity Search performance and stability has been improved to easily find the address you're looking for while ensuring its accuracy using Google's type-ahead suggestions.
When zooming in and out, users can easily adjust the search radius.
Users center search location will now persist when navigating away and then back to the search.
Additional Enhancements:
The following improvements have also been implemented in Act! Companion:
Company name visible in opportunity list view
For contact records with more than one phone number, users will be prompted to select which to dial
Google Maps address autocomplete
Return all records when the search field is left blank
Favorites page styling updates
Clicking save multiple times does not create multiple histories
A timestamp is not automatically added for timeless activities
UK date format displays correctly
Improved German translation quality
See all associated activities in the contact detail view
View and Manage "Hot Leads" from a single page
Improved scrolling experience
Phone extensions now appear in the contact record
Record Manager added to opportunity detailed view
Act! API out-of-date notification
Creating an activity and assigning to contact automatically associates with a company
Summary
Act! v25 is only available in Premium version at this time, as the Web version is expected out in August and the Pro version has been discontinued. Act! Premium v25 will be available for download from Download Act! v25 - Act! on June 8th for North America, and all active Act! Premium v25 on-premises subscribers will be notified when the web version is available for download. Before upgrading, always check the Act! system requirements to confirm compatibility with your workstation setup. If you're on a 32-bit version currently and planning to upgrade to v24 or v25, please note the installation directory of Act! has changed, and will require the current version to be completely uninstalled before the new one is installed. Also, all addons will need to be reinstalled. Please consult with your addon vendor to confirm the availability of compatible updates, and if additional costs are involved.
For tips on upgrading your Act! software, please click HERE.
If you're hosted with Act! Premium Cloud, your transition to Act! Premium v25 will be seamless. Even after Act! upgrades the databases on their side, you can continue to sync with your Act! v24 remote databases until your team is ready to upgrade their workstations. If you're hosted by a third party, please coordinate any upgrades through your Act! Administrator or Consultant, as upgrading early can cut off your sync access to the team's master database.
Act! is Adaptable
Act! works like you work, equipping you with a variety of configuration options from lightly personalized to completely customized. Highly trained Act! Certified Consultants can help create your Act! experience.
Act! is Everywhere
Act! goes where you go, enabling you to be productive from wherever you work. Get to the details you need whether you're online or offline. Sophisticated offline sync capabilities keep everyone in the business up to date
Act! is Connected
Act! likes what you like, keeping you connected to the tools and apps you love like Slack, QuickBook Online, Shopify, and hundreds more. Direct integration with Outlook®, Google, and Excel enables seamless interaction.