Our
Act4mortgages
Making mountains of customer mortgage data manageable and accountable
Act4mortgages is what mortgage brokers have been waiting for – a truly integrated Act! solution specifically designed for their industry. Act4mortgages does more than provide you fields to store data, it calculates data for you, it communicates with your customers for you, it provides one-touch dashboard access to all your funded mortgage activity, AND it allows you to organize all your data in a truly intuitive way.
Keystroke is the #1 Act! reseller in the world, and we did extensive industry research to build a product that works like you do. Organize your industry data by property or mortgage, and use the build in "Qualifier" to calculate applicant mortgage eligibility. Act4mortgages provides you easy reporting and automation to ensure your work time is used with maximum efficiency.

Includes:
Provides several custom tables for mortgage brokers, which include:
Mortgages
Property
Qualifier
Applicants
Act4mortgages Screen Shots (click on thumbnails below)

Mortgage Calculator
Provides a highly customized Contact layout which can not only enter and track the contact information of regular clients, but also of contact related to the customer, such as attorney, banker, real estate agent, etc.
Mortgage Dashboard
Use the mortgage dashboard to instantly get a global view of all your customer's funded mortgages, and easily filter by maturity date, ID/Status, Customer, or an assortmnt of other customizable categories. Once you have the list you want, you can export to MS Excel with the single click of the mouse.


Mortgage Table
Save time & typing with Act4mortgages autocalculation of maturity date, payments, total interest and principal paid, as well as future loan amount at maturity. Provides US and Canadian mortgage calculations.
Applicants
Record all the information on your customer's unlimited number of applicantions in one place, What's more, add the applicants easily into the mortgage or qualifier table to produce valuable insights on their mortgage details or how much they're qualified to spend.


Property Table
Many mortgage add-ons organize loans under the contact. Act4mortgages allows for this, as well, but more importantly supports rolling mortgages up under the property too. This organization structure allows you to manage many properties and many mortgages on those properties under one table.
The Qualifier
Calculating the amount customers are pre-qualified to purchase is available anywhere, but Act4mortgages saves you time & typing by using information you need to record anyway. Simply type in the applicant information and have the qualifiying information appear right within Act4mortgages, and then email them a Qualifying Report.
Provides for both US and Canadian mortgage calculations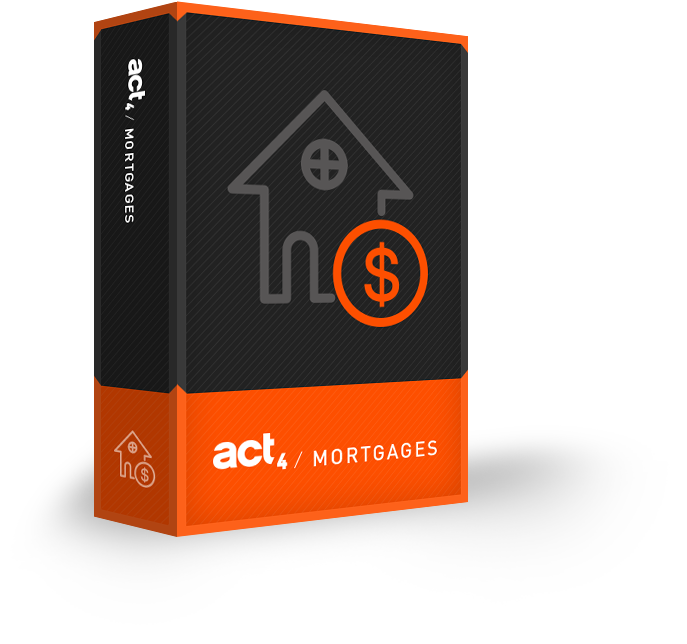 Additional features of Act4mortgages
Easily add and manage one or more "Property" records to Act! Contacts.
Create and manage one or more mortgage records for a given property record. Values such as Mortgage Total are automatically calculated and rolled up in to the parent Property record.
Link one or more Applicants to "Mortgage" and "Qualifier" records. Values such as the number of applicants, annual income, total down payment etc. are automatically calculated from the linked applicants, and stored in the parent records. This allows mortgage brokers to very easily determine the amount the household is pre-approved for.
Quickly calculate mortgage payments and loan amounts with the click of a button. Separate calculations for USA and Canadian mortgages are available.
Several other automatic calculations are performed which calculate common values such as interest paid, principal paid, periodic interest rate, and many more.
All Pricing listed is in USD
Quantity Discounts available
Act4mortgages includes a subscription of Tables4Act! (required for accessing custom tables within Act!)

Purchase Notes & System Requirements
All Pricing listed is in USD
Compatible with Act! v16 or higher (sold separately)
MS Office 2010 or higher (32-bit)
Tables4Act! or Act! Premium Plus are preprequisites, and must be installed in advance (sold separately)
Act4mortgage software is sold with a perpetual license.