why
Choose Act!
Take the Act! Virtual Tour below to see for yourself!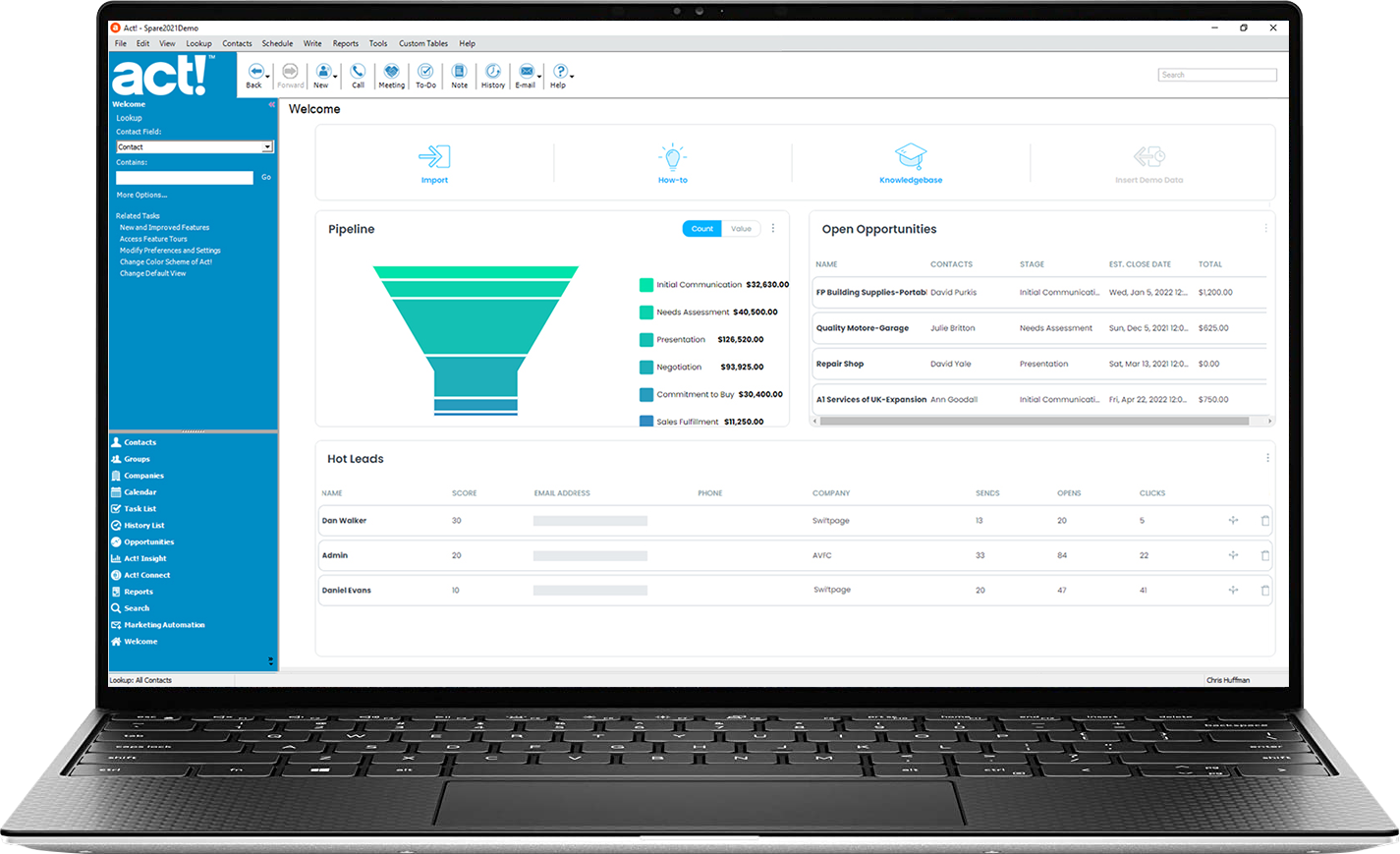 1
A welcome screen with most important information displayed in an easy to consume manner allowing users to manage their day and stay on top of crucial tasks.
2
Drill through to Act! List views or send dashboards to PDFs with one click for further analysis.
3
New users have the ability to insert demo data to experience Act's full potential right away.
4
Hot leads are populated from your Marketing Automation activity in real time, including email opens, email clicks and landing page form completions.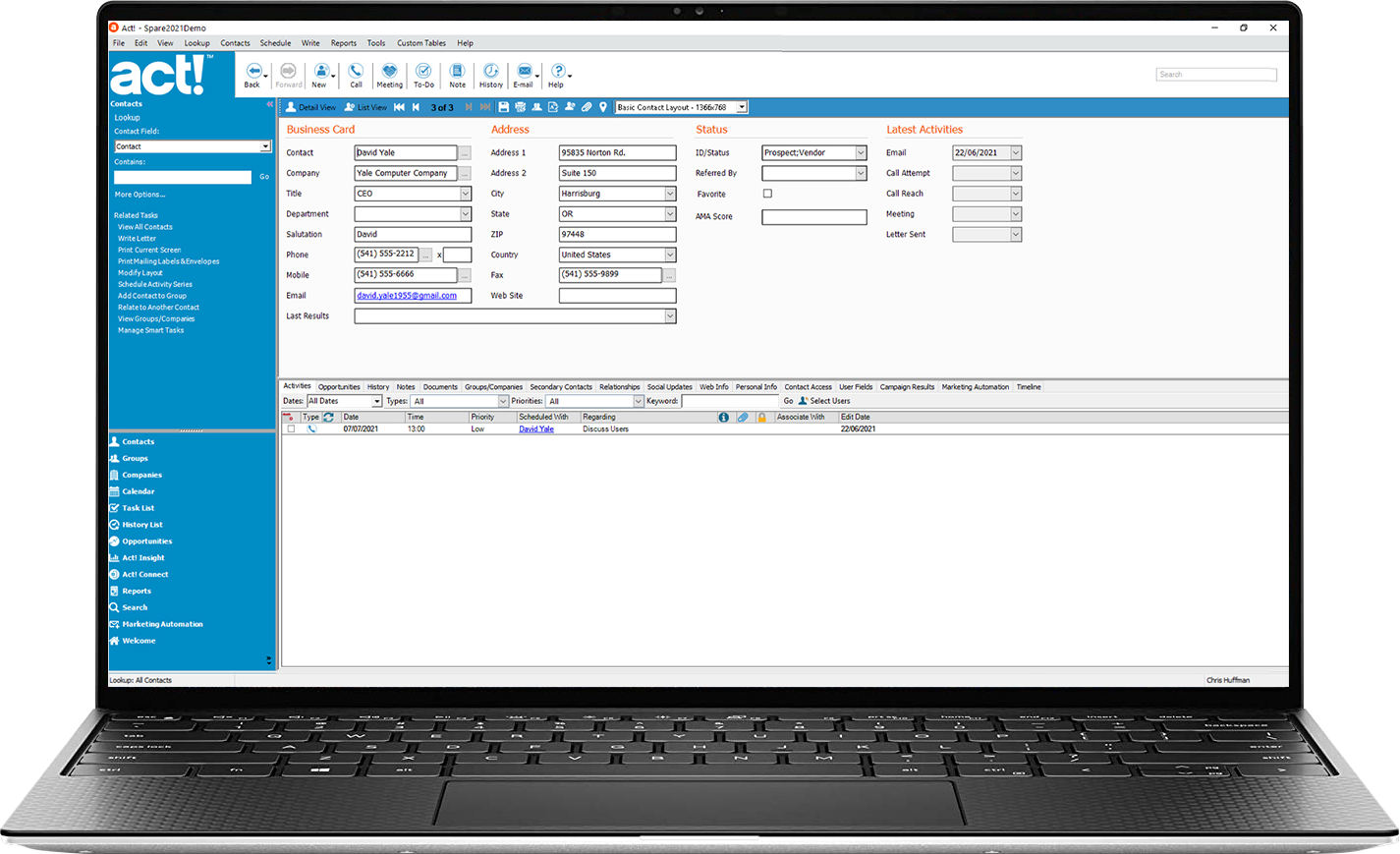 1
Keep rich contact details in one easy to find place – the Act! Contact Record.
2
Capture and easily reference complete relationship details, including activities , opportunities, history, notes, documents and more.
3
Find what you need with powerful search capabilities.
4
Navigate to all Act! featuresfrom the side bar with ease.
5
Creat new contacts, calls, meetings and more with quick action buttons.
6
Unlock the full potential of Act! with custom tables, enabling you to bring complex data sets, unique business processes and specialized industry pratices together in Act!.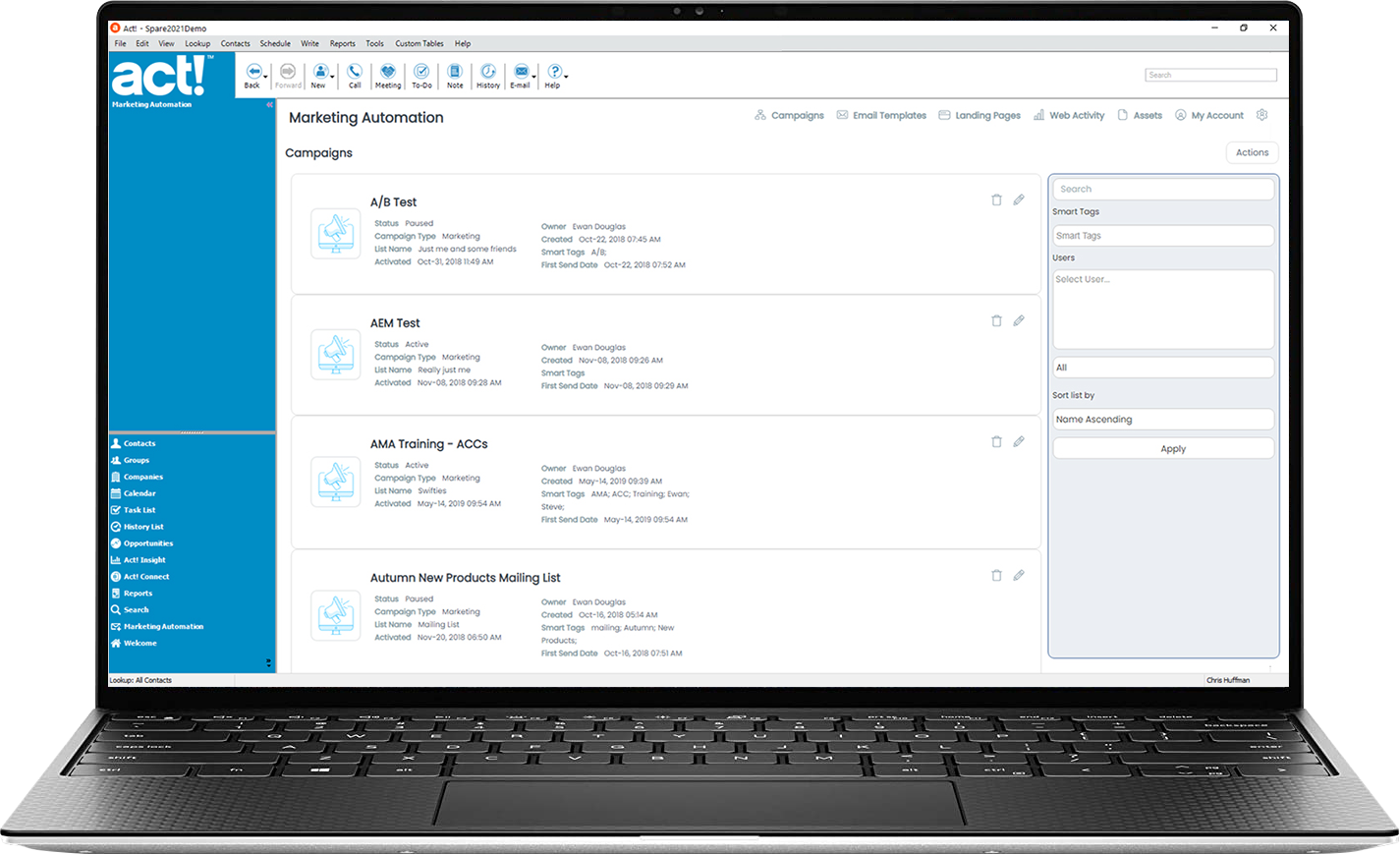 1
Select from pre-built campaign workflows with all steps included and relevant email templates attached.
2
Get started with 170+ mobile responsive email templates that fit your industry, business and communication style.
3
Build highly personalized, responsive-driven nurture marketing campaigns with decision trees and one or more actions to let Act! Marketing Automation do the work for you.
4
See the interactions of both identified and anonymous visitors on your website today, yesterday, this week, last week or the last 30 days.
5
Creat new contacts, calls, meetings and more with quick action buttons.
6
Measure engagement of YouTube videos and PDs to pinpoint your companies most impactful marketing assets.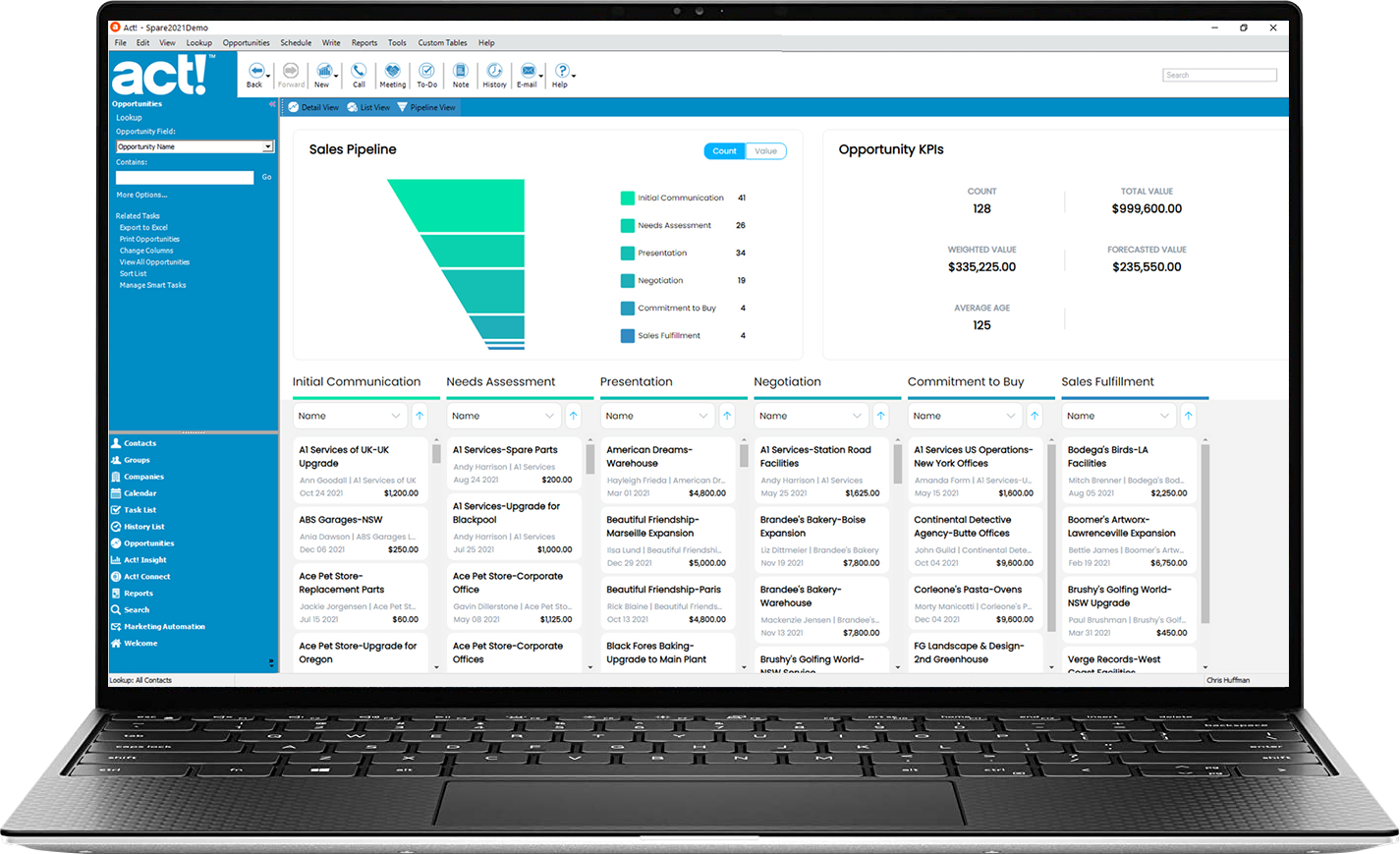 1
Forecast and track sales opportunities to stay on top of all new leads.
2
View your opportunities in detail, list or pipeline view.
3
View the total count and value of all open opportunities in your pipeline view with the interactive sales funnel.
4
Focus on the most relevant sales details with in-context KPIs that provide an instant roll-up of metrics based on filters you apply.
5
Focus on the most relevant sales details with in-context KPIs that provide an instant roll-up of metrics based on filters you apply.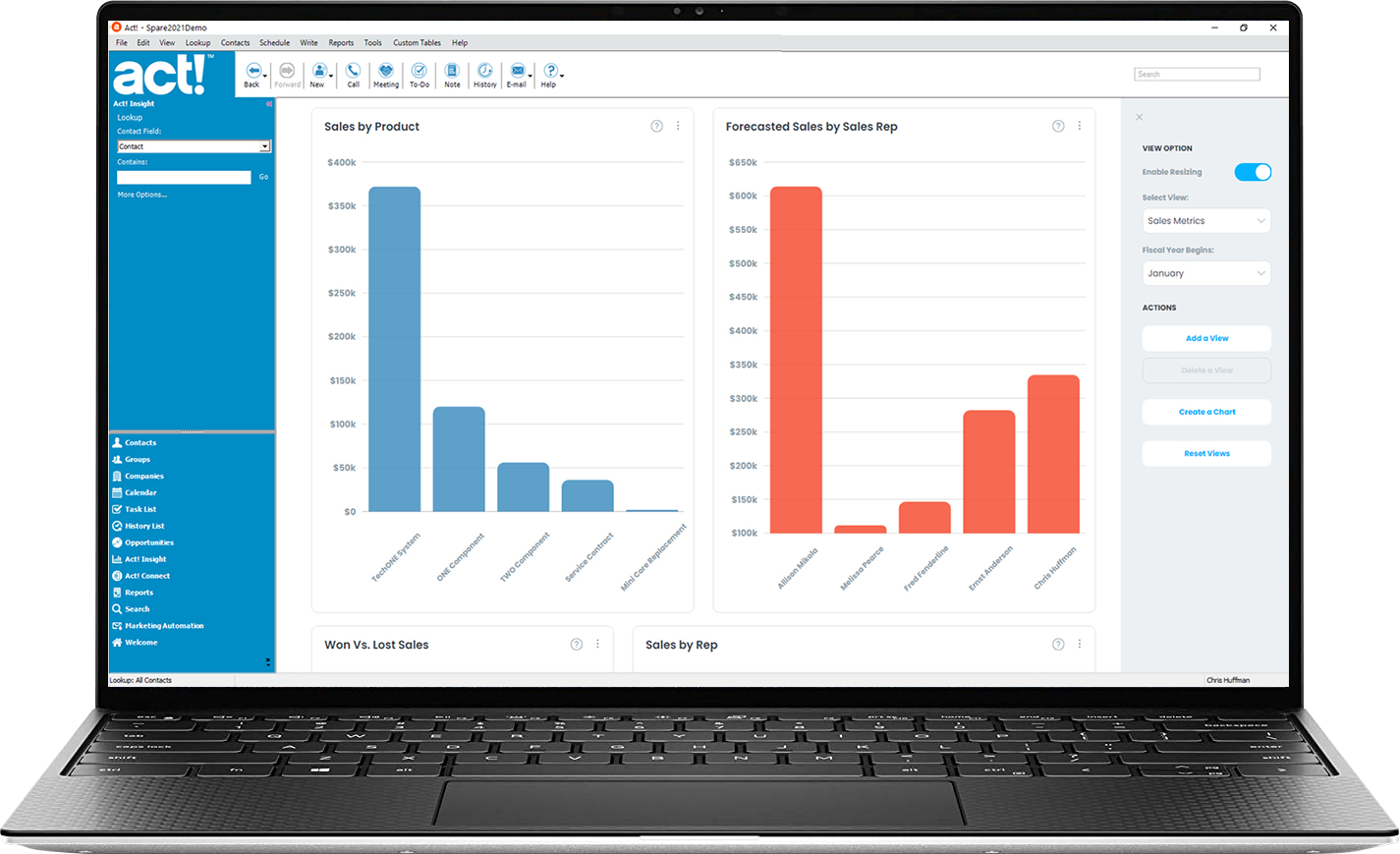 1
Guide decision making with rich, actionable insights from interactive, graphical Act! Insight dashboards.
2
See dynamic, visual snapshots of real-time metrics covering sales productivity and performance, sales pipeline health, top performing products, win/loss analysis and more.
3
Personalize your dashboards with filter for date range, activity types, products and users shown.
4
Drill-through to Act! List views or send dashboards to PDF with one click for future analysis.
5
Dig deeper with preconfigured reports with the report designer. Export reports to Microsoft Excel, html, pdf and email.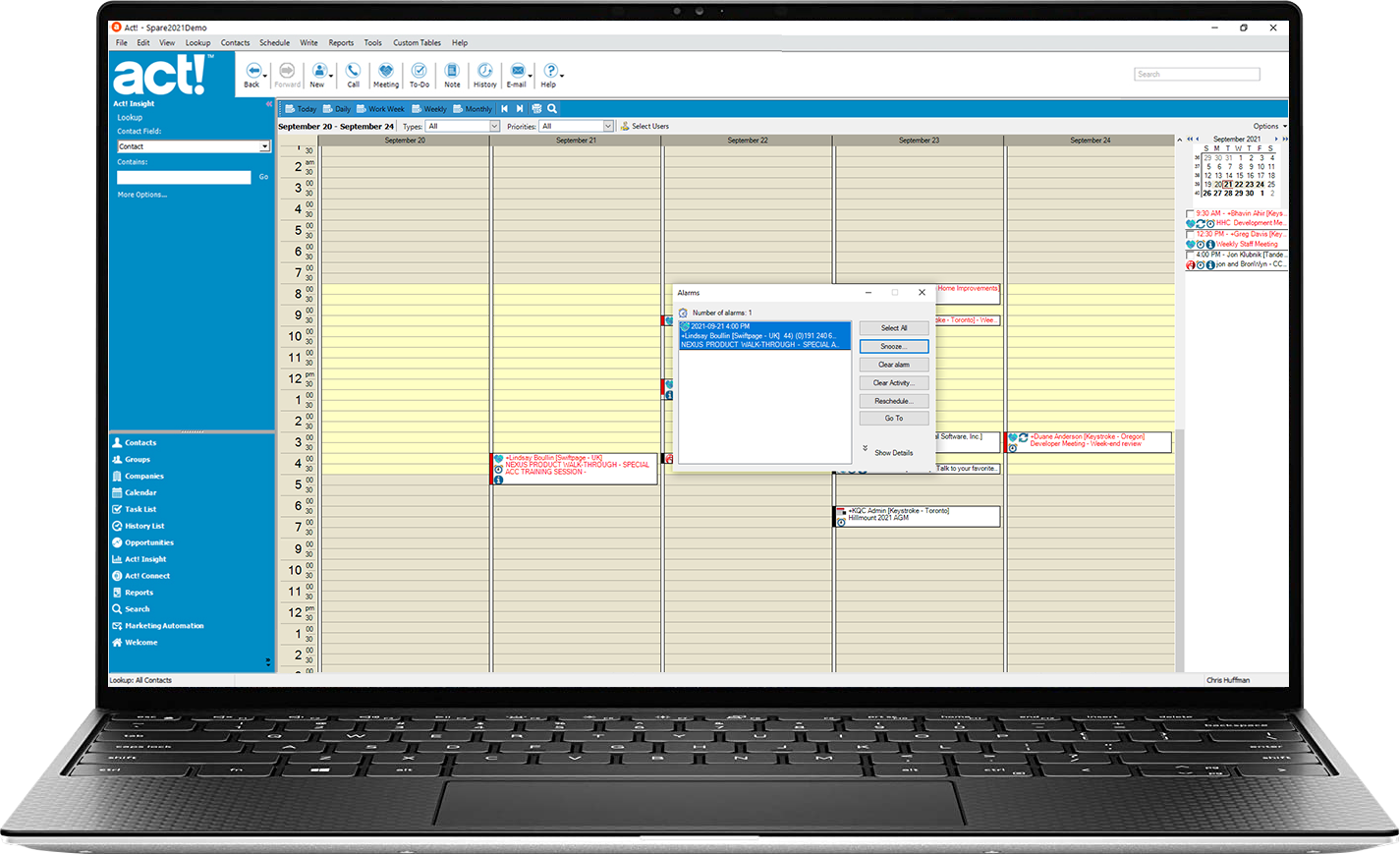 1
Easy activity alerts with numerous response options.
2
Activities displayed clearly in your choice of calendar views - daily, weekly, work week, or monthly.
3
Drillable task lists organized from your calendar view.
4
Handy drillable mini-calendar for toggling back and forth months at a time.
5
Easy one-click calendar selectors.
6
Choose what filters you want to apply to your calendar view to customize what you wish to see.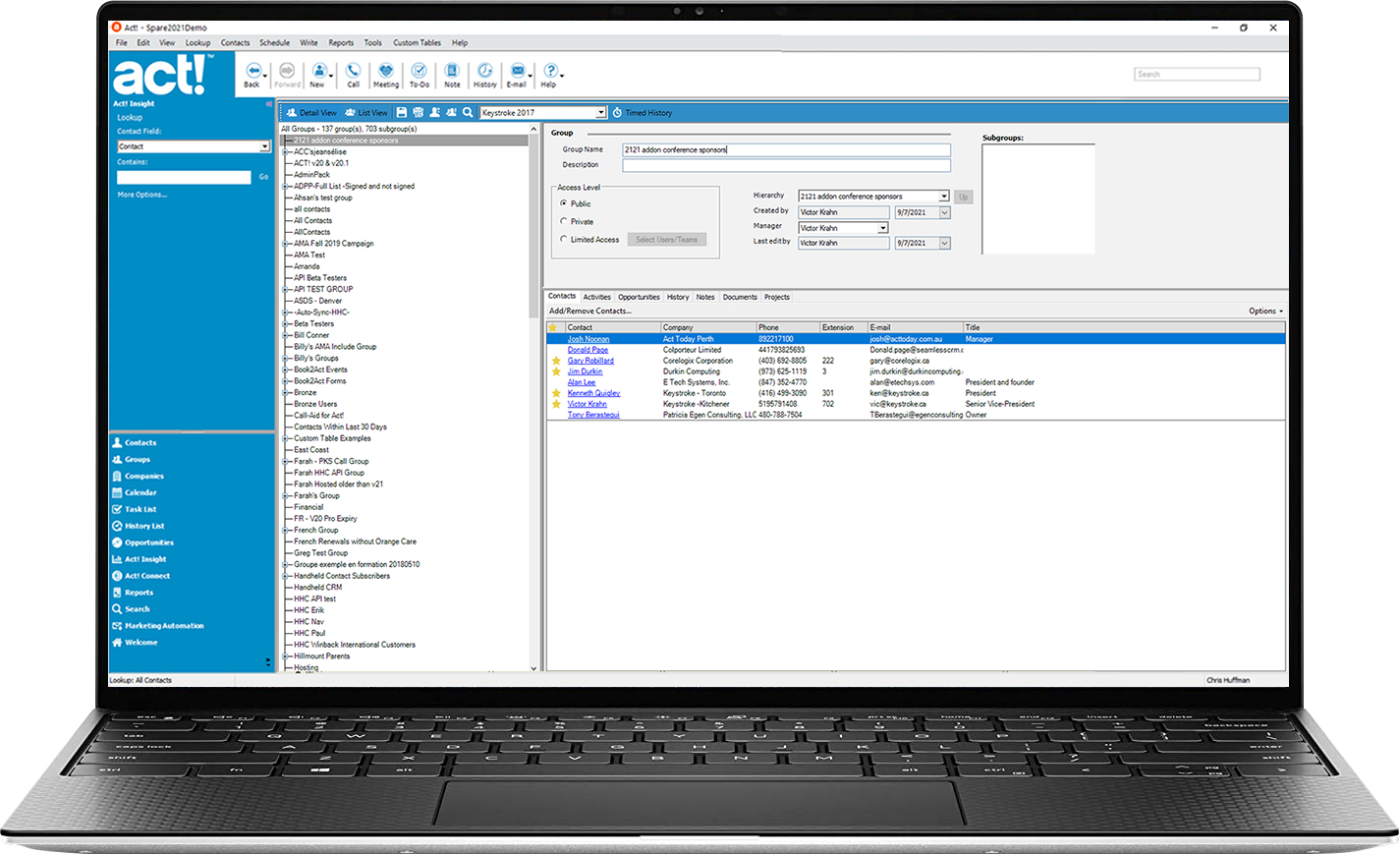 1
Populate groups manually or dynamically based on field values.
2
Segment your database for marketing purposes.
3
Create Subgroups to organize related groups.
4
Create Groups of Contacts dynamically based on custom table values.
5
Control who has access to each group for added security.
6
Add notes, Histories, Documents to each Group.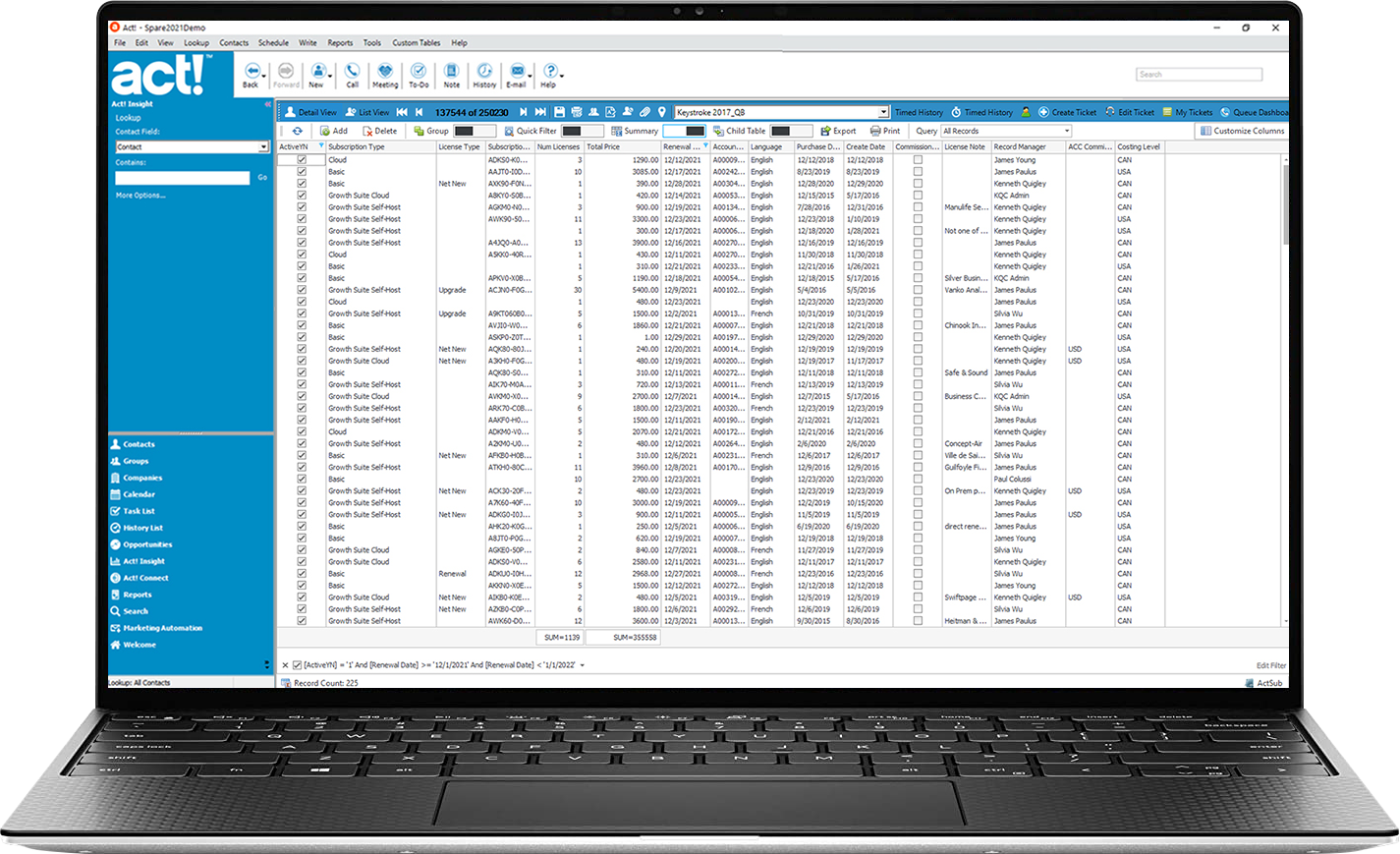 1
Organize transactional data like a spreadsheet under contacts, companies, groups, and opportunities.
2
Calculate column totals, averages, minimums and maximums, and count.
3
Use Quick Filter to find values across all columns
4
Use Column filters to narrow your data view by a particular value, like Record Manager.
5
Group records in Act! by custom table values.
$37.50
per user / per month
(billed annually)
CRM and Marketing Automation together as one
Act! is the #1 best-selling contact manager for over 30 years. Designed to take the guesswork and complexity out of managing customer relationships, Act! gives users a 360-degree view of their contacts and interaction history, tightly coupled with easy-to-use yet powerful scheduling and marketing automation tools. Act! enables users to determine the best next move more easily, then take action faster, so they focus more of their time on doing what matters most: attracting new customers and growing their businesses.
Sales & marketing in one
Achieve sales and marketing greatness with the all-in-one solution designed just for small and midsized businesses.
Fit for your journey
Grow as you go with affordable options perfect for your unique business—no matter where you are on your journey.
A recognized leader
Rest easy when you partner with a recognized leader with millions of happy customers all around the world.
What our customers say about Act!

Act! is tailor-made for small business success
A few reasons why over 72,000 companies in 150 countries use Act! to grow their business.

Build Relationships
Act! allows you to record and manage all the details of your customer relationships in one centralized place to ensure you always know what makes them tick, and when & why to contact them.
Juice your Sales!
Act! powerful sales tools allow you to effectively manage pipelines, provide keen performance indicators, and accurately forecast income all within one application.
Act! is affordable
Act! has a low subscription fee that includes everything you need, including the Act! software, all updates & upgrades, support, emarketing, training videos, and if needed, even hosting of your database. Click HERE to learn more.
Hosting Options
Want to deploy Act! but lack the network infrastructure to support it? No problem. Act! hosting can help your team with fast and economical setup, a centralized hub for all your staff, and publish your database for browsers and mobile devices. Click HERE to learn more.
Act! Marketing Automation
Act! Marketing Automation gives you a powerful way to grow your business with beautiful emails, intelligent drip marketing, real-time response metrics, visual workflow designer, and both inbound and outbound automated CRM workflow. Integrate AMA forms & asset tracking into your website to generate leads and produce activity tracking and analytics. Click HERE to learn more.

Offline access with online syncing
Whether you're at the cottage, on a plane, or in a remote location, Act! allows to continue working offline without interruption and then sync your changes when you're back online. With Act!, you never lose access to your data.
Industry Verticals
Why buy off the rack when there are ready made solutions for your industry? Keystroke makes Actcessories for mortgage brokers, wealth managers, real estate agents, tech support, and insurance brokers, just to name a few. Click HERE to learn more.
Easy to learn
Act! is easy to learn with many free quickstart learning resources available. In fact, employers using Act! often find onboarding new staff easier because so many people have used Act! in previous jobs, and are quick to adapt to the program. Check out our extensive library of training videos below.
Act! Mobility
In the office or on the road, Act! is where you're at! Powerful mobile tools like Handheld Contact enable you to always have your vital database information at your fingertips.
Integrate your Apps
Act! works with a variety of business solutions including Microsoft® Office®, Lotus Notes®, QuickBooks®, and many other business solutions available today - with many more available through integration solutions.
Business Insights
Act! provides you business critical insights on your company, your customers, your marketing and your team, enabling you to make informed decisions about your business performance and direction. Click HERE to see a selection of videos on Insight Reporting
User Community
Act! provides you with a variety of resources including a large user community and a vast, mature partner network that give you immediate answers to questions about using Act!, training, customizations, and Actcessories. Click HERE to learn more.
Solid Security
Act! security operates on the database, user, contact, and field level to safeguard your data from both internal and external threats. Additional security is available at the sync level to dynamically control who sees what based on sync rules.
Sales Automation
With tools like the Knowtifier, your business can build bullet proof workflow automation to ensure you never miss a contract renewal, warranty expiry, birthday, or anniversary. Deliver timely notices to your customers and automatically schedule follows for your team.
Productivity Tools
Act! is great out of the box, but quality Actcessories unleash the full potential of this remarkable CRM product. Custom tables, quoting and data management tools, as well as slew of other productivity tools can save you time and money. Click HERE to learn more.
Customer Satisfaction
Act! enjoys one of the most loyal followings of any CRM product on the market. While many CRM programs come and go, Act! has been the #1 selling Contact and Customer Manager in the world for 30 years (since 1987), with over 3 million users. Click HERE to learn more about Act!'s long history.
Act! is the #1 selling contact and customer manager that helps individuals and companies grow sales profitably, manage daily sales responsibilities, and communicate more effectively to improve productivity. With over 3 million users and 49,000 corporate customers, Act! has maintained its position as #1 for over 25 years because it's renowned for ease-of-use and is simple to learn.
What is a contact and customer manager?
What are the differences between Act! and Act! Premium Solutions?
What are the differences between the SQL Express Edition and the SQL Server Edition?
Do you have a hosted solution?
Do you have a version that works with Apple® Macinstosh®?
Will it work on an iPad or Android Tablet?
Will Act! work on a 64-bit Operating System?
What is the Act! Software Support Policy?
What is Product Activation and how does it work?
What is the return policy for Act! software?