The 2019 edition of our Actoberfest Sale is possibly the biggest we've ever had based on the savings. This is partly due to the natural fanfare surrounding this annual promotion, and the fact that Swiftpage announced a number of end-of-life discounts that are tough to beat. 
Here is the breakdown:
Act! Pro v21 Sale:  
A customer relationship management desktop program used to keep track of client and prospect details in a single database that can be shared by up to ten users. Includes all the basic Act! features users have trusted for over 30-years. 
Buy a license of Act! Pro v21 and receive free fulfillment of Act! v22 when it's released in mid-November
33% discount off all Act! Pro v21 licensing through October - only $198.87
Act! Growth Suite Sale: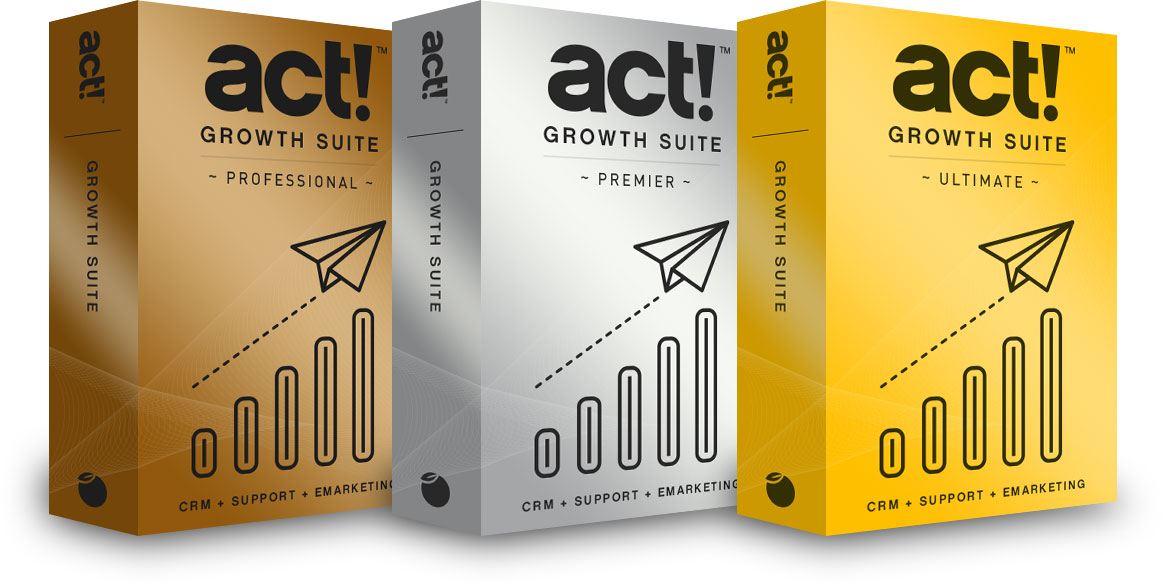 Growth Suite 2.0 is the single biggest change in the Act! product line in recent memory, and marks a dramatic change in direction for the publisher. Swiftpage is moving towards Act! being not simply a CRM, but an eco-system of services designed to help businesses grow, and in our opinion, the Growth Suite is a homerun - a no-compromise marketing technology combined with a CRM solution that has been trusted by millions for over 30 years.
Act! Growth Suite Professional - $25/user/month (billed Annually)
Act! Growth Suite Premier - $45/user/month (billed Annually)
Act! Growth Suite Ultimate - $90/user/month (billed Annually)

Please note that at no extra cost our experienced sales reps can consult with you on your exact Growth Suite needs prior to purchase. You can reach our sales department by either calling 1-833-ACT-BOLD, or email

This email address is being protected from spambots. You need JavaScript enabled to view it.

. 


Existing & past Act! subscribers eligible, as well as all owners of perpetual licenses of Act! Premium
Includes Act! CRM, hosting by Swiftpage, and the respective Act! Marketing Automation tiers.
Current APC customers ineligible for this promotion

We know this is a lot of change, and we want to earn your well-informed business. If you have any questions, please dial 1-833-ACT-BOLD and ask for This email address is being protected from spambots. You need JavaScript enabled to view it. (ext. 703) This email address is being protected from spambots. You need JavaScript enabled to view it. (ext. 325), This email address is being protected from spambots. You need JavaScript enabled to view it. (ext. 704) or This email address is being protected from spambots. You need JavaScript enabled to view it. (ext. 301), and we'd be happy to help explain this transition, as well as provide a precise quotation on the cost adjustment.