Act! custom tables unleash the full power of Act!


Act! has been the #1 contact manager for 30-years, but in 2008 it slipped in support for a feature that fundamentally changed the product - the ability to support one-to-many relationships through the use of custom tables.

Custom tables are not sexy, but if you want to record transactional data in your Act!, there are only two ways - Opportunities and Custom Tables. Most users are not prepared to re-purpose the former, and the latter is dramatically more flexible and powerful.

To understand custom tables, imagine a mortgage broker trying to keep track of multiple mortgages for his customers, both past and present. With custom tables you can easily add as many new mortgages to a contact as your needs fit, and as these mortgages mature, you can disable them, and replace them with new ones. The mortgage broker can look at all his mortgages at once, or individually under each contact.
Custom tables support powerful filtering and exporting features allowing a user to lookup mortgages by amount, lender, maturity or funding date, what have you.

Insurance agents can store policy information, car dealers can track leases, and service departments can manage support tickets and contracts for the customers. The possibilities are endless. The following illustration is a simple blank form customized for tracking loans.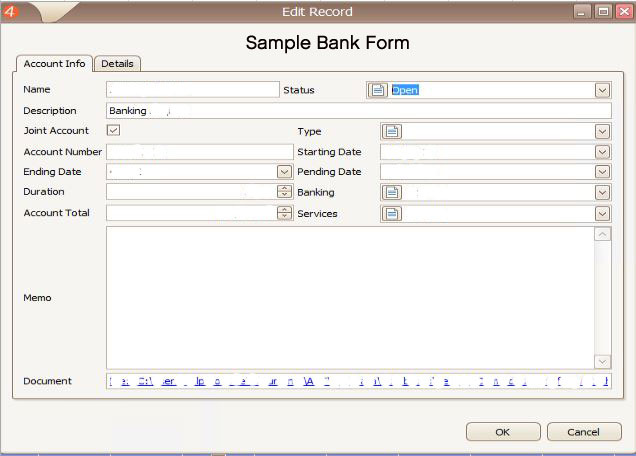 Custom Tables with Industry Solutions
The power of custom tables is why they're included in nearly every industry vertical that Keystroke offers (ie., Act4wealth, Act4mortgages, Act4support, etc.), and why we developed our own custom table software to ensure we're offering the best solution available. One that is fast, incorporates the latest technology, and meets the needs of our customers.

This is how we can boast that custom tables can increase the capabilities of Act! ten-fold, because we made it so. In fact, we use our custom table solutions to manages tens of thousands of software licenses, hosting contracts, support tickets, projects, you name it. And with these added data management capabilities, comes dramatically increased reporting opportunities, as well! See your custom records in List View The following illustration is a list of software licenses listed under one contact. By clicking on "Add" on the top left of the graphic, you would open a blank form similar to the one above, except customized for tracking software. The toolbar also provides controls for grouping items from your list; searching with Quick Filter that searches across all columns; doing column calculations with the Summary button; as well as exporting the list to Excel.
Many more controls exist, of course, but separate form the control bar. For instance, when right-clicking on a custom entity, you can reassign to another contact, company, group, or Opportunity, as well as search/replace, duplicate, and merging to Word or Email. The following illustrations show a few examples of these custom table features and controls: Illustration #1: Sample of custom table records in List View

Illustration #2: Complete a lookup of Contacts, Companies, Groups, or Opportunities by right-clicking on one or more custom table records, and select Go To>.

Illustration #3: Complete changes to many custom table records at one with the powerful Edit> tool.

Illustration #4: Complete merge mail to one or more custom table records directly to MS Word or email.

Illustration #5: View your column filtering and display column summaries quickly and easily

As you can see, custom tables offer a whole new level of data management within Act!, and with the support of transactional data comes improved workflow capabilities. Imagine recording all your contracts in Act! (ie. insurance contracts, mortgages, leases, subscriptions, or what not), and be able to automate the renewal process around the data you store in these custom records. With properly organized and managed data, you can send automated renewal notices to customers, scheduled automated phone follow-ups, and even auto-disable the contracts when the expiry date passes. The opportunities are endless. Imagine what custom tables can do for your business? Please give our support or sales team a call today to discuss how this technology can help you squeeze more juice from your database.
Free Trial of custom Tables
In the coming weeks, Keystroke will be releasing a selection of free schemas that incorporate custom tables, and that you can import directly into your database. These tables will include the custom table software at an extra charge, but they'll be available for a two-week free trial.

Stay tuned for more details!

** Please backup your database before implementing these changes, or create a separate non-production database to test custom tables with.