Keystroke Webmail Powered by IceWarp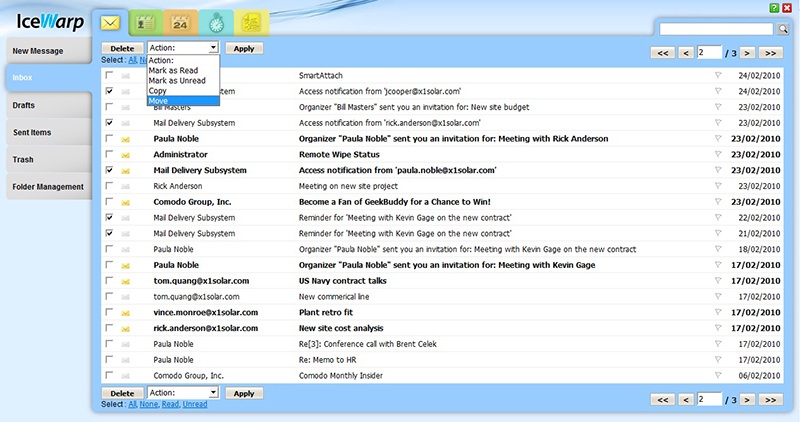 Webmail that will make you forget your email client.
Keystroke's browser based WebClient, powered by Icewarp, is a browser-agnostic mobile workspace, which unleashes the full power of IceWarp Unified Communications. It delivers the most comprehensive web-based unified communications client on the market. Everything is intelligently integrated and organized in one location, ensuring that employees can access the information they need – precisely when they need it.
To access our webmail page, return to the homepage of
www.keystroke.ca
and click on the "WebMail" icon under "Keystroke Client Tools", or go directly to
http://webmail.keystroke.ca
and login with your email address and password.
Browser based access is simpler, requires no email client, and will automatically detect whether you're using a PC browser, a mobile phone, or tablet.
Video on how to use the BASIC Webmail features
Video on how to use the ADVANCED Webmail features
Using AJAX-driven Web 2.0 technology, IceWarp WebClient is designed for desktop-like user experience. The same behaviour that users expect from desktop clients is also available in IceWarp WebClient, including Drag & Drop, Right-Click, Pop-Up Reminders, Multi-file Upload, Audio Notification of email, IM and phone calls, or animated Delivery Reports
Compose, Read & Organize Your Emails
The WebClient interface for composing and reading email is user friendly, containing common desktop-like features, including auto-suggestion, full text search, HTML message composition, and automatic spell checker. A virtual dock gives end users the ability to simultaneously compose a message while handling multiple email messages and calendars.
Each user can easily manage their own account settings on the server, including the Auto-responder, email forwarding, and signatures. They can also create and manage their personal server-side email sorting rules and manage personal certificates.
IceWarp AntiSpam is fully integrated, offering a significant advantage over hardware appliances. Using IceWarp WebClient, individual users can manage their personal antispam rules, while settings remain stored on the central server. Messages marked as spam are stored in the Spam or Quarantine folders, and users can Blacklist and Whitelist senders.
Contacts, Calendars, Tasks, Files & Journals
Through IceWarp WebClient, users can access every feature of IceWarp GroupWare, including Contacts, Calendars, Files, Tasks, Notes and Journals. Data entered into WebClient is instantly saved on the server and pushed to connected Outlook clients, IceWarp Desktop Client and mobile devices. Print stationery creates standard output for emails, calendars, contacts and tasks.
WebClient includes special interfaces for mobile devices and other low bandwidth clients. Three options are available to users, including a full AJAX interface, a Basic non-Javascript interface that provides access to Email, Contacts and Calendars, and a fast PDA/iPhone interface.
Translated to more than 20 languages
Users can select from more than 20 languages, including English, French, German and Japanese.
IceWarp mobility requires no software installation. It delivers out-of-the-box support for most mobile devices on the market including Windows Mobile, Nokia, Motorola, LG, Samsung, iOS (iPhone, iPad) and Android-powered devices since Android 2.0.
BlackBerry devices require an easy-to-use synchronization app (purchased separately).