Keystroke is pleased to announce a deal with Stonefield Query, an industry leader in providing reporting solutions, to be the exclusive worldwide distributor of their Act! reporting products. As part of this agreement, Stonefield has agreed to develop three new tiers of their products under the Keystroke branding of "Reporting4Act!", and will be designed to fit all budgets (see product tier details at bottom). All tiers of Reporting4Act! will include hundreds of built-in Act! reporting templates, and be able to support the custom tables in the new Act! Premium Plus right out of the box.
This partnership of two Canadian companies, combines the distribution reach of the world's #1 Act! Reseller, with the technology of the best Act! reporting software on the market, and completes Keystroke's suite of CRM add-on products including reporting, database design, and workflow automation.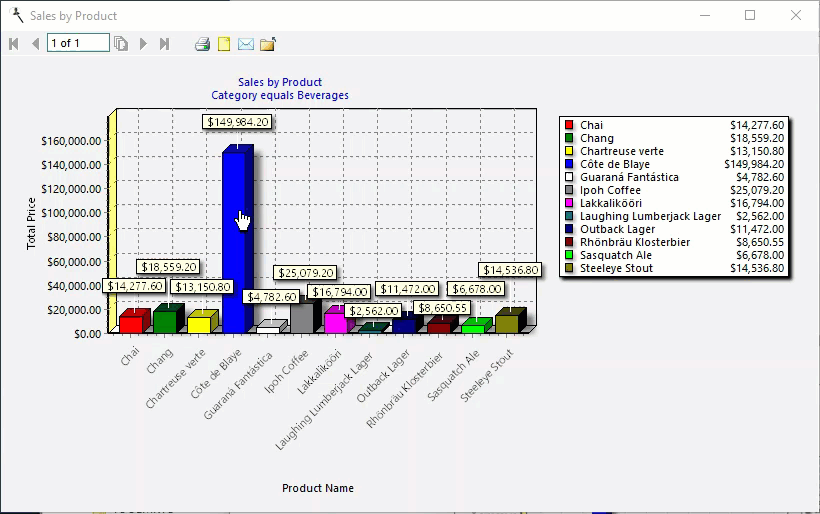 A little about Reporting4Act!
Reporting4Act! provides a step-by-step method to create professional business reports from information stored in Act!. Anyone can create detailed reports, high level overview, drill-down, charts/graphs, pivot tables, and more in minutes rather than hours.
Create detailed reports and know what is happening with prospects and clients. Analyze opportunities and learn why they closed or were lost. Scan through the call list and read the details quickly to determine how to prioritize calls and more.
Other features include:
Can report on custom tables added in Act Premium Plus version 20.1 and later.
Built-in reporting on Swiftpage Connect E-marketing. When a campaign is sent out, the information is logged into the Act! history. Stonefield Query segments this into individual fields for detailed reporting.
Can report on information in QuoteWerks, a quoting system that integrates with Act!.
Automatically detects custom fields and custom sub-entities, and allows reporting on these items just like the stock Act! tables and fields.
Can report on customizations created with the Tables4Act!, Durkin, or with TopLine Designer, such as relationships between custom subentities.
Only displays those tables and fields actually available in the version of Act! you use.
Comes with 100+ sample reports that can be run or used as a starting point for report design.
Automatically deliver reports via e-mail, file, or printer. Schedule them to run anytime you need them to.
Run reports on more than one Act! database
Extended data analysis in Excel PivotTables.
Create bar, graph, line, area, and pie charts as well as series charts and graphs. Dashboards combine multiple charts into one consolidated view of your data. Zoom in and out on the dashboard, update individual reports manually, and output the dashboard to file.
New Product Tiers
These new product lines allows anyone on any budget to easily build powerful and business critical reports on activities, histories, and opportunities data, as well as custom table data. And with the Basic Viewer application, it's now affordable for anyone on your team to run the reports you build, from anywhere.
Product & Maintenance
Basic Viewer
Pro
Premium
Ultimate
 
 
 
 
 

 Initial Purchase (includes 1st yrs maintenance)

$49.95
$199.99
$399.99
$799.99

 Annual Maintenance (includes support, updates, and
 continued use of free Basic Viewers) * optional

n/a
$50
$100
$200

 Free Viewer Qty (included with purchase & maintenance)

n/a
1
2
5
Make your data matter with Reporting4Act!
More information on product and pricing:
https://www.keystroke.ca/en/reporting4act.html


A little about Stonefield Query
Stonefield Systems Group Inc. was incorporated in 1991. Calling on his expertise as a Certified Management Accountant (CMA) and integrator of enterprise resource planning (ERP) systems, founder Mickey Kupchyk set up an ERP implementation and consulting division. The other founder, Doug Hennig B.Sc., relied on his expertise as a software developer to set up a custom software development division. By 1998 Kupchyk grew the ERP division to be one of the 10 largest Sage ACCPAC ERP resellers in the world.
These two founders had a vision: rather than build another database reporting tool geared towards IT professionals, they would design a user-friendly package targeted at the 99% of the population who weren't technically inclined. Stonefield Query was the result, and to date has satisifed more than 225,000 users worldwide for its easy-to-use yet powerful reporting capabilities.
Reporting4Act! Release Date
March 15th, 2018