VIP Membership has many privileges
The Keystroke VIP Club is an annual membership that was inspired by new Act! customers needing some initial "kick start" help with their deployment or upgrade, but hesitant to engage a consultant for fear of the cost.
The problems we witnessed, though, was that these same people often deployed the Act! program poorly, or in some limiting manner, and ended up wasting more time & money than they ever hoped to save.
Some walked away from their software investment entirely.
We at Keystroke saw this problem as both avoidable and easy to fix, so we came up with the Keystroke VIP Club to help. The premise is simple, and one that will provide customers cost savings, peace of mind, and get their Act! deployment started quickly, efficiently, and securely.
You will receive either two, four, or eight hours of Keystroke Act! remote support service (depending on whether you select VIP, VIP+, or Diamond+), and access to special offers and promotions exclusive to Keystroke customers, and access to our popular "Orange Care" support plans.

For customers that wish to take advantage of the VIP Club benefits, but have already purchased their software, all the same benefits are still available for standalone purchases, but at a slightly higher rate. Same rate applies for late VIP Club renewals.
By renewing on, or before the renewal date, customers can now receive the following benefits:
NEW! A 10% discount by entering coupon code "ontime" at checkout for VIP renewal (without quotes)
NEW! Any unused time from the previous year's VIP contract will be carried over to the new year
Please note that the coupon code is only valid for this year, and only eligible orders will be processed. If a renewal order is submitted after the renewal date, the order will not be processed. Such purchases would be considered a new "VIP" Contract at the prices listed below, with no carry-over hours. A breakdown of our VIP plans and their prices is shown below.
Annual Support Plan Comparison Chart
+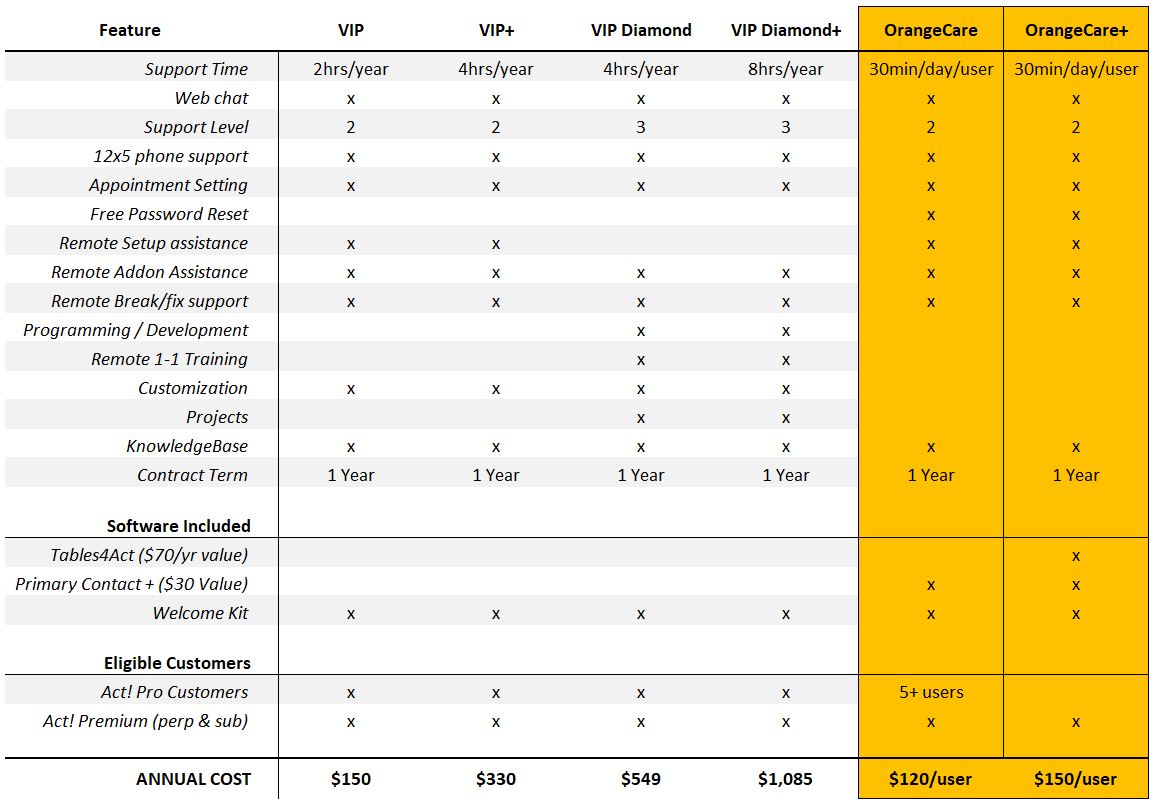 The Fine Print
What's the catch? Well, there are some conditions, but none that we think will surprise people or stop anyone from joining the Keystroke VIP Club. Membership conditions are as follows:
Must opt-in to Keystroke email distribution. Members who opt-out during the term of their membership will forfeit the balance of their membership
Membership must be paid before it can be redeemed.
One membership per customer, per year. VIP Diamond can be combined with one of the other VIP support packages.
Membership's have no cash value and are not transferrable.
Keystroke VIP Club benefits cannot be applied retroactively. In other words, Membership cannot be applied to past invoices.
Keystroke VIP Memberships must be renewed within 15-days of annual expiry date. Late renewals or stand-alone purchases will be sold at $149.95 for the VIP and $329.95 for the VIP +.
Service time is calculated in 15-minute increments
VIP time remaining at the end of the one year contact will be lost unless the VIP is renewed on time in which case the remaining time is carried forward.