Questions about Act4outlook?
Qmail is a free built-in email composer that works within Act! and supports most email clients & records Histories.
The essential Actcessory 4 integrating with Microsoft Outlook
Act4outlook v2.0
* New & Improved version no longer requires MAPI integration and includes enhanced install shield and our exclusive Qmailer. Less reliance on Act-Outlook integration delivers faster and more reliable performance, and Qmailer offers an alternative means to send email from within Act!.
Also includes many other feature enhancements!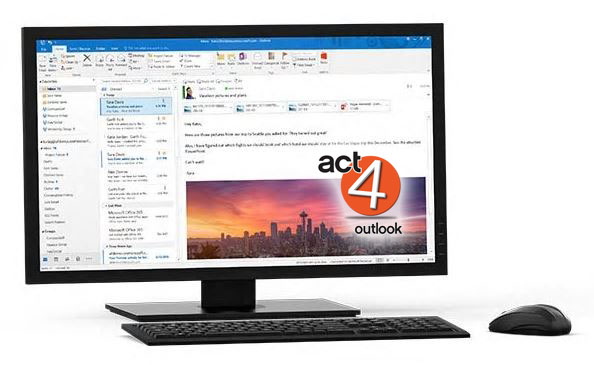 Keystroke is pleased to announce the release of Act4outlook, the Actcessory designed to enhance your Act!-Outlook integration needs.
Finally you can disable the Address book integration between Act! & Outlook that can create such system overhead. Act4outlook passively attaches all outbound Outlook email to the appropriate contact History quickly, and allows you the enhanced ability to create contacts & activities from your Outlook inbox.

Not limited to the inbox, though, Act4outlook can safely send your Outlook contacts and calendar items to Act! without fear of mass duplicates or calendar corruption. Act4outlook is designed to allow you to right-click on a contact or calendar item and simply select "Send to Act!" and have it automatically appear in your database.
This is perfect for people that create appointments in their calendar with Siri or accept invitations or VCards with Outlook or their mobile device. Act4outlook allows you to send these calendar items with a click of the mouse, allowing you to choose what goes into your Act!. Previous synching solutions forced all items to sync, but Act4outlook gives you back control over what you send to Act!
Act4outlook includes the following features:
COPY CONTACTS TO ACT!:
Send Outlook contacts to Act! by simply right clicking one or more contacts from your address book.
Qmail
Qmail is a handy email utility that is built into Act4outlook that allows you to send one-off emails to Outlook, or any other email client that you have selected as your default email program, while recording it reliably to Act! History.
SUPERFAST HISTORY RECORDING
Send an email from Outlook (even with Act! closed), and it will be attached to the matching record in Act! within a second.
CREATE CONTACTS & ACTIVITIES FROM AN EMAIL
Disable the Act-Outlook address book integration that so often slows down computers, and get all the functionality back with Act4outlook. Select and email and automatically convert it to a Contact or Activity, but in a way that is faster than ever before.
LINK TO ACT!
Link Contacts to Companies, Groups, or Opportunities after sending to Act. If no contact is found, you'll be prompted to create a new contact.
COPY ACTIVITIES TO ACT!
Keep your Act! & Outlook calendars aligned! Send one or more Activities to Act! from your Outlook calendar. Perfect for those invites that never make it to Act!, or appointments you create with Siri or Google Assistant.
COPY TASKS TO ACT!
Send one or more tasks to Act! from your Outlook To-Do list that you create from either Outlook or your mobile device. IOS users can type countless reminders into their mobile devices, and then send them all to Act! with a couple of clicks of their mouse.
FIND ONE OR MORE CONTACTS IN ACT! FROM EMAIL(S)
Select an email in your inbox, and click on "Go to Contact", and Act4Outlook will find the matching contact in your Act! database. Or select multiple emails in Outlook, and create a lookup in Act!
REDUCE CALENDAR DUPES
Act4Outlook reduces duplication by keeping track of previously imported activities. If an activity is updated in Outlook with new data, simply re-send the activity to Act which will update the previously imported Act activity.
INBOX HISTORY RECORDING
Attach one or more email messages directly to Contacts, Groups, Companies, or Opportunities. Linking the email to more than one type of record at a time does not create a duplicate entry in the Act attachments folder.
INCOMING EMAIL HISTORY RECORDING
Act4Outlook can automatically record and link all incoming messages to the Act database as long as a Contact with the sender's email address is found in the database. Users can also enter one or more domain names to ignore so that any emails sent from those domains are not attached to the database.
As the makers of Handheld Contact, we know Act4outlook provides an essential desktop link between customer's Act!, Outlook, and Handheld Contact data. Our most recent versions of HHC offers a new "importer" tool to bring address book contacts into Act!, and Act4outlook does the same, but more for Act! and Outlook on your desktop.

Act4outlook seamlessly enables Outlook as an extension of Act! to make users more productive with less effort. Act! boldly!

Purchase Notes & System Requirements
All Pricing listed is in USD
Price is based on per installation (perpetual license)
Compatible with Windows version of Act! v16 or higher (sold separately).
No Act for Web support or support for browser based email or Mac versions of Office.
MS Office 2010 or higher (32-bit)
PRICE: $35.95