Have questions about current promotions?
Spending less doesn't always mean getting less
SwiftPage frequently runs targeted promotions and we've set aside this section of our site to feature them. As the world's largest reseller of Act!, we're always able to match or beat any promotions available directly from SwiftPage, so don't hesitate to contact us if you hear of advertised pricing cheaper than what we have displayed on our website. You can review all products and packages available for sale on our website in the Keystroke.ca ONLINE SHOPPING CART, or you can go directly to our MONTHLY SPECIALS. We will make every attempt to display only active sales, but errors and ommissions are accepted on all promotional notices.
Please call 1-833-ACT-BOLD if you have any questions about the below listed promotions, or email us at
sales@kqc.ca
.
-------------------------------- November & December 2018 Promotions --------------------------------
Act! Pro Upgrader Pricing
Description: Pricing for Act! Pro v21 is reduced to $199.95
Eligible: All past owners of Act! v18 or older
Savings: 33% (Normal price is $300)
Promo Code: not applicable
Valid until - End of month
Please note: Owners of v19 or v20 save with Loyalty pricing of $239.95
The Act! "Winback" Promotion
Description:
Subscribe to any Act! Premium product and save 33% off the first year as part of our "Winback" promotion
Eligible:
Open to all past Act! customers who own unsupported versions of Act! (v17 or older)
Savings:
33
% off the 1st year's subscription price
Valid until
-
End of this year

Promo Code:
Not applicable. Simply select "Winback" quantity option.

Please note:
Customer renews after first year at regular price. Perpetual products and 2+ year subscriptions are

not

eligible for "Winback" promotion. Cannot be combined with other promotions, including normal quantity discounts.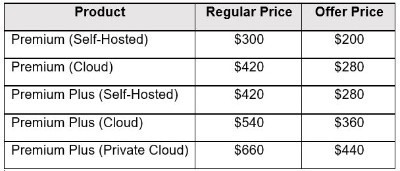 Premium Plus Loyalty
Description: Convert any existing Act! Loyalty subscriber (Bronze or Silver Business Care migrators) over to Act! Premium Plus and save $120 off the susbcription fee (qty discounts apply).
Eligible: anyone currently paying either $154 for Bronze or $224 for Silver (Business Care migrators)
Savings: Approximately 28% ($420 vs $300)
Promo Code: "Plus Loyalty"
Valid until - End of Month
Please note: Customer Locks in this pricing tier for as long as their susbcription remains uninterrupetd
Act! Productivity Pack
We believe such Actcessories play a more important role in peoples daily Act! use, and for this reason we have decided to combine them into one simple, steeply discounted package so users everywhere can enjoy Act! more efficiently and productively. We call it the Act! Productivity Pack, and the tools included in it are as follows:
Together, the Productivity Pack is selling for only $99.95 USD, whereas the price to purchase each of them separately would total up to be 70% more.
ORANGECARE PROMOTION
Description: Waiver of VIP bundle requirement for all OrangeCare subscriptions this month. This represents a savings of between $150-330 USD per account, and represents the best support value in the Act! industry.
Eligibility: All customers with an current Act! or Hosting subscription
Savings: $150-330
Valid Until: End of this month
Act! Plus Automation
Description:
All Act! Premium Plus subscriptions will now include one free subscription of the Knowtifier (a $300 value) to make their data "actionable", and their business work flow!
Eligible:
Open to all Act! Premium Plus customers
Savings:
$300/year/account.
Valid until
-
End of this month

Promo Code:
N/A
Please note:
Customers subscribing to 1-3 seats of Premium Plus get one year of Knowtifier free of charge
Customers with 4+ seats of Premium Plus will continue to receive the Knowtifier free of charge for as long as their Premium Plus subscription remains continuously active. Perpetual purchases are not eligible for this promotion.
Please note: This website is owned by Keystroke Quality Computing Inc.. Keystroke is independent from SwiftPage and is not authorized to make any statement, representation or warranties or grant any license or permission on behalf of SwiftPage regarding any product, service or website content. Certain materials made available on or through this website are owned by SwiftPage and cannot be used without the prior written permission of SwiftPage. All other trademarks are property of their respective owners.