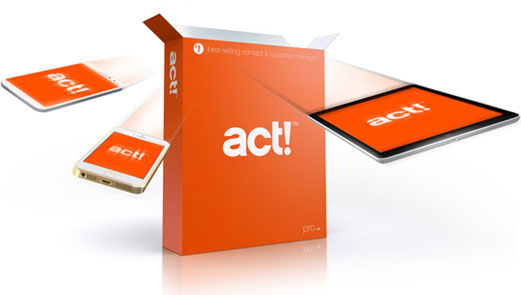 Have questions about which mobility solution is right for you?
Mobile Solutions for Act!
Act! makes it easy for you to stay connected to your business when you are out of the office, whether you have an iPhone®, iPad®, or Android™ device. With several options available, selecting the right mobile solution for Act! could result in you becoming instantly more efficient. Choose a product that doesn't meet your needs however and the decision could be time consuming and costly.
The 3 options that we recommend to Act! users are Handheld Contact, Act! Premium Mobile and Act! Companion. Each solution has its own place depending on your requirements and budget. Read more below to find out more.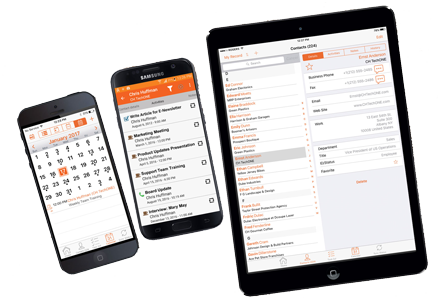 For Pro, Premium & Premium Web
Handheld Contact (HHC) is a native mobile app that you install on your device to gain access to all of your Act! data. HHC has been around since 2002 and is without a doubt, the best all-round mobile solution for Act! as it offers powerful features along with a comprehensive mobile experience. It's such a great product that Act! have actually partnered with HHC.
HHC differs from Premium Mobile and Companion in that you don't need to login to your database. HHC intelligently syncs your mobile device and Act! database in the background wirelessly over the Internet. This means that you're not reliant on an internet connection to function, so you access contacts, activities, opportunities, secondary contacts, notes, and history, clear activities, schedule follow-ups, and create, modify, delete at anytime. Plus you'll never waste time waiting for a mobile site to load. Whenever you call, e-mail, or text message a contact, HHC automatically creates a history item in Act! and asks for details.
Learn more HERE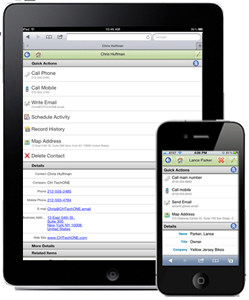 For Premium
Act! Premium Mobile is included with your Act! Premium licence. With Act! Premium Mobile, you get live access your Act! Premium database from any supported device browser3. Unless you are an Act! Cloud subscriber, it is necessary to install and configure Act! Premium Web1 prior to accessing your data with Act! Premium Mobile. Alternatively, you can use Act! Connect Link4.
Once your database is configured, you simply open your mobile's browser, enter the database URL and log in. Here you can easily view, add, and edit contact details, notes, histories and activities, as well as groups and companies just like you are on your Desktop. With just a tap, you can call a contact and have the details recorded in the history. Whilst you also get full access to your calendars and task list, you won't receive any alarm notifications for activities.
Learn more HERE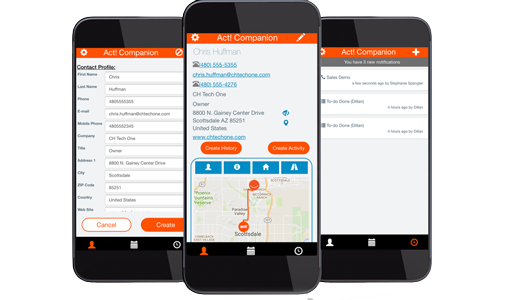 For Act! Premium Subscription users only

Act! Companion is a native mobile app that is also included with your Act! Premium Subscription.
It is a feature lite application that is designed to work in tandem with Act! Premium Mobile, not in place of. Whilst you can still use it as a stand alone product you will need to have your database configured on a web server1.
Act! Companion leverages the features of your phone to communicate the key Act! Premium details to you such as upcoming activities. It also lets you make quick and easy updates such as capturing notes during meetings. You can also email or call your Act! Premium contacts directly from the app without having to log in to the website.
Being a lite version, there are function limitations however Companion would be a great tool if you only want to find the basic details of your contacts to email/call them directly. Additionally, if you have access to Act! Premium Mobile, Companion would provide an alert notification system not currently available in Act! Premium Mobile. Act! Companion is only a very new product and is in constant development so there will be lots of feature improvements to come. Find out more about Act! Companion or download Act! Companion from the App Store or Google Play.

Learn more HERE
Act! Mobility Options - Comparison Chart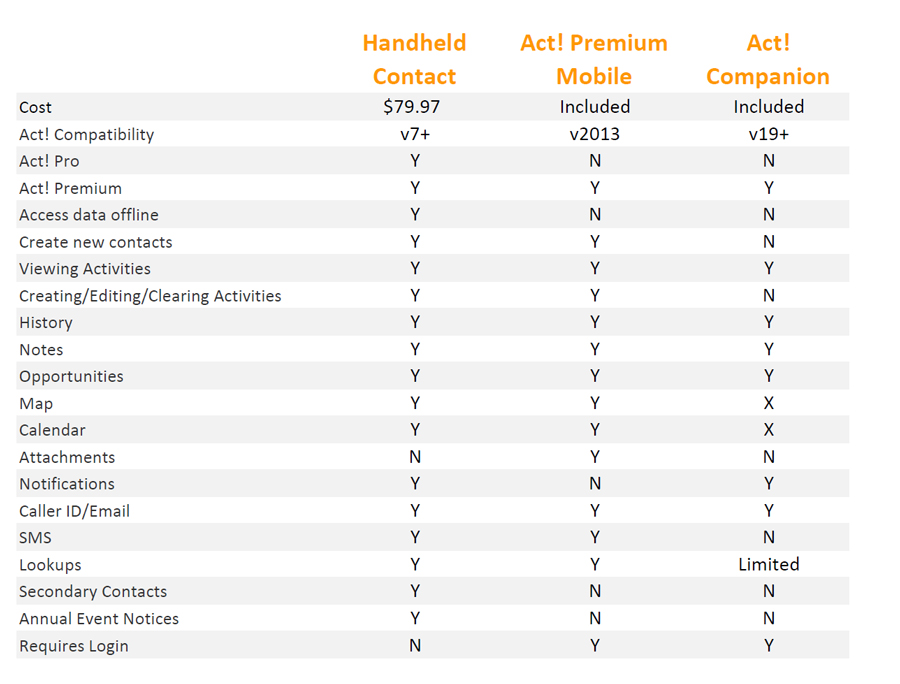 Notes:
Requires installation and configuration of Act! Premium Web. Follow the Knowledgebase Article on How to install and configure Act! Premium (access via web) or speak to one of our consultants.

Records as a 'To Do' History Type

For information on supported browsers, refer to the system requirements for your version of Act!.

Act! Connect services require an active Act! subscription, and use of either the Act! Web API or Act! Connect Link depending on deployment and access method

Handheld Contact System Requirements

The SMS is not sent by the application itself, requires a mobile sim card and attracts normal carrier costs.