Act4Mortgages
The essential "Actcessory" for Mortgage Brokers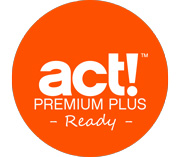 ** Each License requires one subscription of Tables4Act! for access to the custom tables within this product. Tables4Act! subscription sold separately.
Finally an intelligent Act! add-on for mortgage professionals that saves time, does the math for you, and automates your workflow so nothing gets missed.
Features include…
Provides several custom tables for mortgage brokers, which include:

Mortgages
Property
Qualifier
Applicants
Provides a highly customized Contact layout which can not only enter and track the contact information of regular clients, but also of contact related to the customer, such as attorney, banker, real estate agent, etc.
Easily add and manage one or more "Property" records to Act! Contacts.
Create and manage one or more mortgage records for a given property record. Values such as Mortgage Total are automatically calculated and rolled up in to the parent Property record.
Link one or more Applicants to "Mortgage" and "Qualifier" records. Values such as the number of applicants, annual income, total down payment etc. are automatically calculated from the linked applicants, and stored in the parent records. This allows mortgage brokers to very easily determine the amount the household is pre-approved for.
Quickly calculate mortgage payments and loan amounts with a click on a button. Separate calculations for USA and Canadian mortgages are available.
Several other automatic calculations are performed which automatically calculate common values such as, interest paid, principal paid, periodic interest rate, and many more.

Purchase Notes & System Requirements
Price is based on per installation
Compatible with Act! v16 or higher (sold separately)
Tables4Act! or Act! Premium Plus (sold separately)
MS Office 2010 or higher (32-bit)