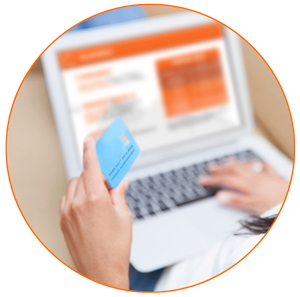 If you have questions about your bill, please let us know before paying.
Please select the appropriate payment button below for the currency in which you were billed. If you are unclear as to which currency you were billed in, please check your invoice for the right most field above the billing details. If you're still uncertain, please contact our office at 1-800-857-0558.
If you're a Canadian customer and your invoice contains a "Foreign Exchange Fee", your invoice was billed in CAD, and you should select the Canadian payment option below to the left. Please note that the invoice currency is also indicated on the invoice on the left side above the billing details. 
After you select the appropriate payment option, you'll be asked to enter the following details (all fields are required):
The payment amount (please enter full amount to the penny, even if you need to enter .00)
The invoice number (enter "1001" if you don't know it)
3.  Your company name
(enter "n/a" if there is no company)

4.  Email address
5.  First name and Last Name
Once you confirm the security Captcha, and click "Continue to Secure Payment", you'll be taken to our payment processors page. Kindly enter your payment information there (we accept VISA, MasterCard, and American Express).
PLEASE NOTE
If you have any trouble processing your payment, please use the appropriate PayPal payment option for your currency (the button below the first payment option).

A PayPal account is NOT required

to use this option.
Alernatively, you can pay with PayPal
Alernatively, you can pay with PayPal
Acceptable Payments
Over the years Keystroke has evolved our payment policies and options to better support emerging technologies and customer convenience. While the terms and conditions spelled out below represent those at time of publishing, please do not hesitate to contact our office for updates.
Payment Options & Policies
Credit Cards: Visa, MasterCard, American Express (Online payments can be made securely on from this page)
Onsite Payments: Cash, Credit Cards, Onsite Debit Cards
Mailed Payments: Do NOT mail cash. Personal and corporate cheques mailed to the following address:
Keystroke Quality Computing Inc.
c/o Accounts Receivable
500 Gordon Baker Road, Toronto, Ontario, M2H 3B4, Canada


Direct: Email Transfer (ken@keystroke.ca), Money Transfer (must be arranged in advance with Keystroke)
Over the phone: Feel free to call in your payment information to 1-800-857-0558