Keystroke is a member of the QuickBooks Certified Advisory program, and as such can sell & support their products.
We do not offer accounting or bookkeeping services.
QuickBooks Integration with Act!
Whether you're looking to share contact & accounting information between Quickbooks, or simply reduce the amount of double entry between the programs, having Quickbooks integration with Act! is a useful feature. The Actcessory product you choose for this, though, really depends on your deployment type, so it's important to understand the difference before choosing an integration product. The following two products are the ones we recommend to our customers.
XACT Link for Act! & QuickBooks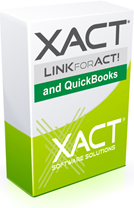 The Xact Link for Act! & QuickBooks is an application which allows Act! users to connect to selected QuickBooks accounting products; in doing so it provides ACT! users with the ability to view QuickBooks customer information, and update and enter customer data to QuickBooks - all from within Act!.
The link operates as a tab within the Contact detail view within ACT!. There is also a menu item provided within the Tools menu. The key element with Xact Link's integration is it is "dynamic", which is to say the information is live and always up to date, as opposed to some snapshot taken the day before when the list of updates were batch upload to Act!. It is also important to note that remote users require a VPN to connect to the accounting file, so it may not be the perfect fit for road warriors.
Features
New! Vendor Overview: Show vendor balance and brief vendor information
New! Vendor Bill: View and drill into unpaid bills
New! Customer Item Summary Report: Print report to show item(s) purchased by customer within a date period.
New! Customer Item Sales History: View a list of all the items a customer has purchased and create new transactions based on past purchases. Learn more...
New! Stock Levels & Monitoring: View QuickBooks stock level information from within ACT! and set monitoring alarms for when stock is low, needs re-ordering or has run out. Learn more...
Establish a connection between your ACT! contacts and QuickBooks customers. Learn more...
Update a QuickBooks customer record from within ACT!
View and Create Estimates, Sales Orders, Invoices and Sales Receipts for a given QuickBooks customer from within ACT!
Integrates with the ACT! Opportunities Module: Easily convert ACT! Opportunities to QuickBooks sales documents.
Supports QuickBooks customer and item level pricing
View aged receivables from ACT!
View and create new vendor Purchase Orders.
Use customised templates to print out, create PDF files or Email customer's sales records from within ACT!
Ensure staff have access to only what they need through the administrator's, Access Control feature. Learn more...
Reporting functionality including Sales History and Stock on Hand reports, and a Google Map of all your customers.Learn more...
Link for ACT! and QuickBooks - Lite. Learn more...
Integration with the Xact Time & Billing product. Learn more...
QSales Data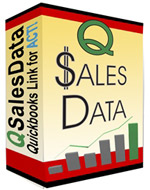 (Formerly known as QBSalesData)
Fully compatible with Act! v18
Take your business to a new level of efficiency by linking your ACT! and QuickBooks applications together.
Having separate ACT! and QuickBooks databases can be a major source of inefficiency and duplicate work. With our QuickBooks link for ACT! you eliminate double-entry and make your ACT! and QuickBooks users more productive.

Costs
$159.00 -- One-user License
$149.00 -- Five or more
$139.00 -- Ten or more
Key Features of QSalesData QuickBooks Integration for Act!
Link Act! Records to QuickBook customers
Use our Customer Link Wizard to link all of your ACT records to QuickBooks customers. Click Here to see a video example of this feature.
Create QuickBooks customers from records in Act!
Push Address Changes between Act! and QuickBooks
Create QuickBooks transactions (invoice, sales order, estimate, etc.) from within Act!
View QuickBooks transactions from within Act!
View QuickBook items purchased from within Act!
View 5 years of Sales Totals, Past Due Balances, and other key sales metrics in Act!
Convert Act! Opportunities to QuickBooks Transactions (Act! 2010+)
Lookup Customers in Act! by Items Purchased
Convert Act! Opportunities to QuickBooks Transactions (Act! 2010+)
All data resides in Act! fields and synchronizes out to Act! remote databases
Watch a 10 minute Video Product Overview
Want to try before you buy?
A trial period is built into QSalesData.
After installing the QSalesData software, it will run in fully functional "trial mode" for 15 days. After 15 days you are required to purchase a license and register the product to continue using QSalesData. The product creates a lot of fields in your ACT! database, so you may not want to run a trial on your production ACT! database. You can always make a backup copy of your ACT! database in order to do your testing.
Our Nightly Transaction Sync program will not work with a trial version of QSalesData. You need a licensed copy of QSalesData in order to get the Nightly Transaction Sync program to function.