Produits de rapports pour Act!
Understand your data better with Act! reporting products
The following items are listed for information purposes only, and do not reflect any current promotional pricing that may be available. All of these products are available in our online shopping cart, which can be accessed from the top menu bar. Or you can simply click...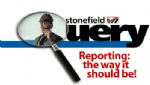 A user-friendly database report writing, query, and data mining addon tool designed specifically for Sage ACT!
Now you can put Business Intelligence reporting in the hands of the end-user where it belongs.
Stonefield Query has been customized specifically as a Sage ACT! add-on giving you an intuitive, easy-to-use BI reporting solution that you will love!
 Stonefield Query has all of the built-in features you expect in an enterprise reporting solution including a Report Scheduler, Role-based Security, Report Templates, Drill Downs, Exclusion/Inclusion Filters, Emailed Reports, Customizable SQL Select, Advanced Report Designer and Multiple Output Options.
Now your sales people, administrative staff, and management can take advantage of the wealth of information stored in your Sage ACT! system when they need it.
 You can create elegant and persuasive Quick Reports, Charts/Graphs, Cross-Tabulation Reports and Labels (mailing, barcode, etc) in minutes with little or no technical knowledge.
No more waiting for the already overburdened IT or report developers to build reports on their timetable.
Sage ACT! Specific Features
Works with the following Sage ACT! versions: 3.0, 4.0, 2000 (5.0), 2004 (6.0), 2005 (7.0), 2006 (8.0), 2007 (9.0), 2008 (10.0), 2009 (11.0, 11.1), 2010 (12.0) 2011 (13.0) and 2012 (14.0)
Automatically detects custom fields and custom sub-entities, and allows reporting on these items just like the stock Sage ACT! tables and fields
Includes more than 160 pre-defined Sample Reports
Use

Stonefield

Query to create new and update existing Sage ACT! Groups using any filter criteria
Multi-Database Support: A single report can be run against each of your Sage ACT! databases without making changes to the report
Data can be pulled from anywhere in Sage ACT!, including Activities, Sales/Opportunities and Notes/History
Can report on

Swiftpage

and

QuoteWerks

data stored in Sage ACT!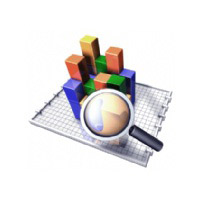 Crystal Clear Essentials is a powerful new reporting tool for your ACT! 2006, 2007, 2008, 2009, 2010, 2011 or ACT! 2012 system! 
Built using the world's most popular report generator, Crystal Reports, Crystal Clear Essentials delivers vital information to managers and executives in a way that is not possible using the built-in ACT! report generator. 
These 15 essential reports can easily be run from the ACT! report menu and include prompts allowing the user to further customize the report. 
Considering all of the flexibility available through user selections, there are thousands of possible reporting outcomes.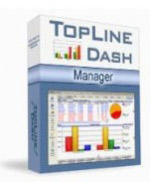 Powerful and highly flexible, TopLine Dash is the easy-to-use real-time reporting tool for ACT!. Choose from Personal or Manager editions to view data for yourself or for all of your ACT! users on one screen within the ACT! application. Monitor sales performance, build exception reports and uncover opportunities.

Read more about Topline Dash under the Topline Results link.
This website is owned by Keystroke Quality Computing Inc.. Keystroke is independent from Swiftpage and is not authorized to make any statement, representation or warranties or grant any license or permission on behalf of Swiftpage regarding any product, service or website content. Certain materials made available on or through this website are owned by Swiftpage and cannot be used without the prior written permission of Swiftpage. All other trademarks are property of their respective owners.