Dynamic DNS provides you fixed Internet address anywhere
Away from the office? Need to sync your Act! database or view your IT online, but don't have a static IP?

Dynamic DNS can help.
Keystroke Dynamic DNS - the simple and economical way to enhance your Internet connection
What is DNS? The Domain Name System or Service (DNS) is a process that maps hostnames (how humans address servers) to IP addresses (how computers address servers).When you visited http://www.keystroke.ca/, your computer resolves that hostname as 66.46.41.173. This translation happens every time you access a website, FTP server, or your e-mail.
DNS is a required "glue" for any Internet application or service where you use a hostname or domain name. Keystroke.ca provides domain registration and DNS service in addition to mail services and network monitoring. 
Internet Features 
Static IP Address 
Dynamic IP address 
Keystroke Dynamic DNS 
 ISP Controlled Email
 

√

 
 

√

 Manage your own EMail Server
 

√

 
 

√

 Remote Access
 

√

 

√

 

√

 Run your own web server
 

√

 
 

√

 Manage your own Domain
 

√

 
 

√
So What is Dynamic DNS?
Dynamic DNS is a unique service that most DNS providers do not offer. Dynamic DNS makes it possible to run a server or workstation on a dynamic IP address while saving hundreds of dollars a year on a static IP address. Our dynamic update client is one of the easiest dynamic DNS clients in the world.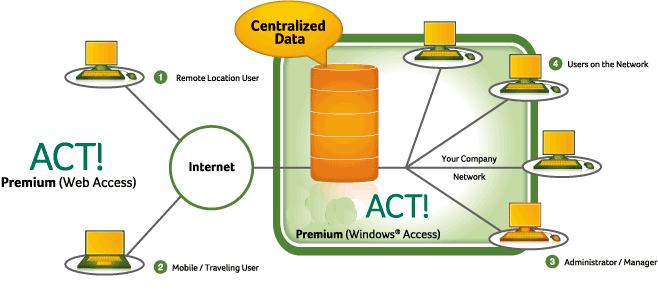 So why is Dynamic DNS useful to me?
While useful for remote access, it's essential for the small business person needing sync their ACT! with their host database to send and receive updates.

The Dynamic DNS service is ideal for a home website or file server, or just to keep a pointer back to your home PC so you can access those important documents while you're at work. Your hostname is always pointing to your IP address, no matter how often your ISP changes it. No more fumbling to find that piece of paper where you wrote down your IP address, or e-mailing all your friends every time it changes. Just tell them to visit yourname.kqdns.com instead!
Why is Dynamic DNS Required?
Typically, when a user connects to the Internet, the user's ISP assigns an unused IP address from a pool of IP addresses, and this address is used only for the duration of that specific connection. This method of dynamically assigning addresses extends the usable pool of available IP addresses. A dynamic DNS service provider, like Keystroke, uses a special program that runs on the user's computer, contacting the DNS service each time the IP address provided by the ISP changes and subsequently updating the DNS database to reflect the change in IP address. 
In this way, even though a domain name's IP address will change often (sometimes every hour), other users do not have to know the Changed IP address in order to connect with the other computer. 

The Dynamic DNS service allows you to create your own unique address on the information super highway, allowing your computer to be more easily accessed from various locations on the Internet.
OK, I'm sold. What does it cost?
Personal/Residential Use: $20/year
Business/Commercial Use: $40/year
* Price is based on "per domain", not location, so additional domains will involve additional charges.