"
Project KickStart v6 is almost here!


Your long wait is over! After almost 7 years, the newest version of Project KickStart is scheduled for release in October 2018. Read more at
www.projectkickstart.net
. Need PKS now? Don't despair, anyone purchasing PKS v5 between now and release date will receive free fulfillment of PKS v6 when it comes out.
ProjectKickStart.com Links
Project KickStart has been purchased by Keystroke
Welcome to the new home of Project KickStart. If you have attempted to reach
www.projectkickstart.com
, you have been redirected to our temporary landing page. In October 2017 Keystroke acquired this award winning project management software from
Experience in Software
, and we've been actively working to release a new updated version called Project KickStart v6 that will be compatible with the latest version of Act!. Stay tuned!
The Easiest Project Management Software
Through five versions of Project KickStart's project management software we've focused on keeping it easy to use. Our clients are planning and managing projects for general business, consulting, IT, government, education and more. If you are you looking to generate ideas, solve problems, and increase efficiency, try it now and have a project ready in 30 minutes.
If you're not a professional project manager, you probably want something that's easy to learn and inexpensive. Of course, it's got to pump out a professional project management plan too. If you are a professional project manager, you might be tired of trying to train your team to use an expensive and complicated tool. Maybe they just want a simple tool they can use to provide initial requirements and to view your full-featured plans.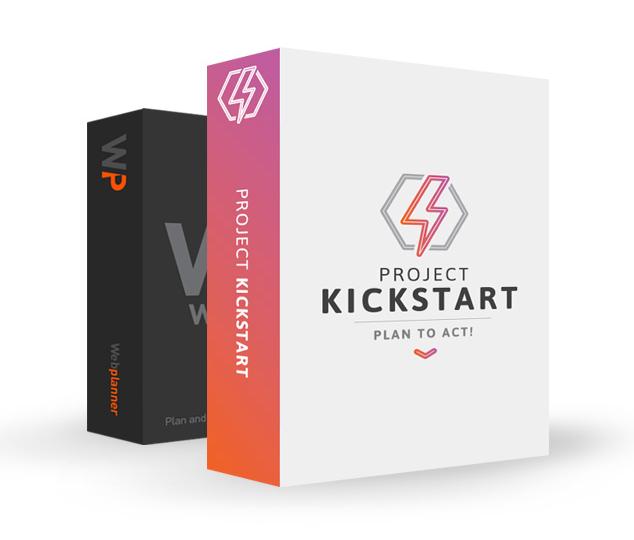 In either case, we've got you covered. Project KickStart Pro 5 makes it easy to specify requirements, tasks, resources, and obstacles, and to generate a full Gantt schedule, including task dependencies. All for less than half the cost of the leading project management software. And, you'll be building projects in less than an hour.
A Simple Project Management Software
Our programming team has been developing project management software for years. In fact, we have listened to customer feedback, integrated the changes you asked for and upgraded our product multiple times. Over the years, Project Kickstart has become one of the premier simple project planning and project management programs available. It's simple to use, easy to set up and very cost-effective. Our current, 5th version is the best project management software that we offer. We know you have a choice based on today's market and we strongly recommend that you try our no-obligation, risk free trial so you can see for yourself how truly easy our product is.
Dashboards & Reports
We've introduced a project dashboard so customers can quickly assess what is Due Today, Next Week, or Next Month. The new report interface provides easy access to project data to keep everyone associated with the project up to date and on the same page.
Merging Multiple Projects
Project KickStart Pro 5 has added flexibility in allowing you to merge a subproject within a master project. It is very powerful and very easy to use. Just go to the Task List or Gantt chart, where you want to merge, then go up to the menus and select File / Merge. All the tasks of the project with all their information will be merged. You are able to think in chunks, and you get an overview over the entire project or projects.
Enhanced Gantt Charts (with Dependencies)
To make scheduling easy and quick, the Gantt chart still opens in a starter schedule for new projects by setting today as the start date and assigning a one-day duration to each task. Now, you have the flexibility of setting task dependencies task by task,instead of having them auto-assigned. (You can still auto-assign task dependencies, if you want to, with the new Options Dialog.)
Sharing and Collaboration
Collaborate and share projects, reports and dashboards with colleagues and management to discuss and share progress and encourage participation. Project KickStart is a project management and collaboration tool that you can immediately set up. Work with your team, clients and contractors. Email reports and dashboards. Real time collaboration through the optional GoToMeeting addon.
User Interface
A large part of the user experience is the look and feel of a product, and the ease of use. A cornerstone of Project KickStart from day one was making an easy-to-use software product and customers tell us we've really succeeded on that front. For the user interface in Pro 5 we've revamped the look and feel to make it more contemporary looking, and we've implemented common user interface practices that we hope will make you even more efficient, and make your projects more successful.
Preferences
Customers can set the program font size and color to their liking. Allowing customers to choose their default directories for projects, templates and contacts will save time and increase efficiency, especially in a multi-user environment. Customers can also choose to automatically set dependencies as a project default.
Import Contacts
Project KickStart Pro 5 has added flexibility in getting your contacts and resources into the application. The ability to import your coworkers, partners, or other resources from a comma separated value (CSV) means less time copy and pasting or inputting those resources manually and more time accomplishing your project goals.
Templates
We've included over ten new templates with Project KickStart Pro 5 which can serve as a model to help you build your own projects, or you can customize them to suit your own needs.
Use Project KickStart™ Pro to generate ideas, solve problems and increase efficiency
Generate Ideas
Unlike more complicated, and much more expensive, project management software, we don't assume you have your plan all ready in your head to dump out. So, what's our difference, what's our secret?

Project KickStart helps you generate ideas by asking the right questions, giving guidance where needed, and allowing you to quickly create a smart, efficient, and organized plan, complete with phases, goals, obstacles and solutions.
Six-step wizard quickly guides you through creating your plan
Streamlined, question and answer process, will give you a deeper understanding of your project's obstacles, risks, and solutions, while simultaneously helping you to create clearly defined goals
Get up and running quickly with FREE sample projects that include goals, phases, tasks, obstacles and more
Solving problems
Every business must learn how to solve problems to survive and successfully compete. Project KickStart Pro helps you identify problems, potential solutions, and provides you with a streamlined, organized framework where the entire project plan and schedule can update automatically based on new tasks, revised dates or other changes. Save time, energy, and achieve your full potential, quickly and easily – one project at a time.
Professional Gantt charts lets you set dependencies between tasks so date changes automatically update entire project plan
Never let a slip in dates go unnoticed or not accounted for
Change task parameters to perform simple 'What If' scenarios
Increase team collaboration and communication
Exports data to Microsoft Project, Outlook, Word, and Excel
Instantly generates PowerPoint presentations of your project
Exports data to MindJet MindManager, WBS Chart, ACT!
Increase Efficiency
Project KickStart Pro helps you increase efficiency in concrete ways. Efficiency in project management is about being organized, detail oriented, having a good understanding of your resources, tracking your budget and % done, among other aspects. Above all, Project KickStart helps you save time, money, and be more productive.
Organizes your thoughts quickly with easy user interface
Straight forward task management and progress tracking keeps your project optimized for more efficient, successful projects
Keep project on track with basic budgeting, cost tracking, milestones, and % done
Use Gantt chart to take concrete steps toward keeping your project on time-or better yet-ahead of schedule
Stay organized with centralized document repository
Optimize resource management and accountability with clear roles and responsibilities
Purchase Notes & System Requirements
All Pricing listed is in USD
Price is based on per installation (perpetual license)
Compatible with Windows 7 (sold separately).
Compatible with most versions of Act! up to Act! 2012.
MS Office 2010 or higher (32-bit)