$25
per month/per user
(billed annually)
Have questions about Act Growth Suite?
PRORATION CALCULATORS
Use our handy calculator below to learn what it would cost to add seats to your Act! subscription.
Swiftpages's
Act! Growth Suite
Watch as your business goals become a reality with proven CRM and powerful Marketing Automation
The following are the tiers of the new Growth Suite, with each of the top three including Act! Premium CRM, Database Hosting with Swiftpage, Act!
Marketing Automation
, and an escalating level of Swiftpage technical support. The first tier, namely Growth Suite Starter, includes basic SaaS CRM and emarketing.
Starter Edition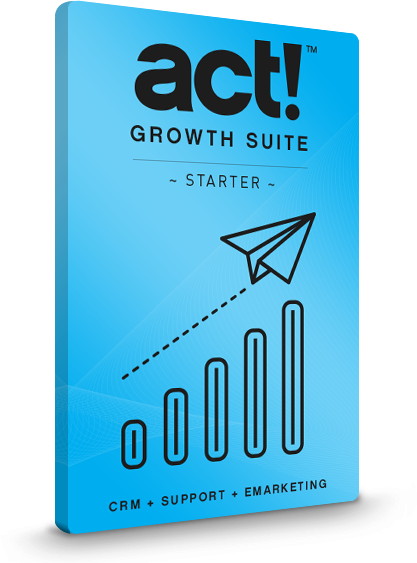 $
25
.00
per month/billed annually

ACT!365 CRM
EMAIL MARKETING
DIGITAL SUPPORT
Starter Edition
Includes:
Act! 365 (SaaS product, no on-premise client)

Email Marketing (see tier breakdown below) with 10K monthly sends

Digital Swiftpage technical support only

Includes free online mobile client

Migration to Act! CRM available if needed
Professional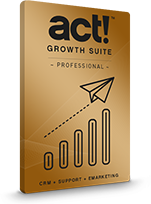 $50
$
37
.00
per month/billed annually

ACT! PREMIUM CRM
MARKETING AUTOMATION
NORMAL SUPPORT
Professional
Includes:
Act! Premium CRM license (self-hosted)

Select Marketing Automation (see tier breakdown below) with 25K monthly sends and outbound workflow

Regular Swiftpage technical support
Most Popular
Premier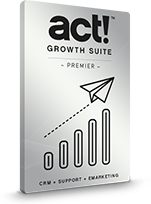 $90
$
67
.00

per month/billed annually

ACT! PREMIUM CRM
MARKETING AUTOMATION
PREMIER SUPPORT
Most Popular
Premier
Includes:
Act! Premium Cloud license (hosted or self-hosted)

Complete Marketing Automation (see tier breakdown below) with 50K monthly sends and outbound/inbound workflow, and advanced HTML editor

Premier Swiftpage support
Ultimate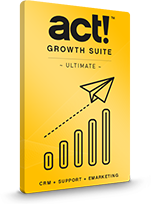 $200
$
150
.00
per month/billed annually

ACT! PREMIUM CRM
MARKETING AUTOMATION
ULTIMATE SUPPORT
Ultimate
Includes:
Act! Premium Cloud license (hosted or self-hosted)

Advanced Marketing Automation (see tier breakdown below) with 100K monthly sends and outbound/outbound workflow

Premier Swiftpage technical support
Existing Act! subscribers should contact sales@kqc.ca to determine their eligibility for prorated credit, and the amount thereof.
Act! Growth Suite Plan Feature Comparison Chart
When proven CRM meets powerful Marketing Automation, the possibilities are limitless! Act! provides the ultimate toolset to grow your small business. Compare the features of our Growth Suite plans below, and choose the one right to boldly grow your business.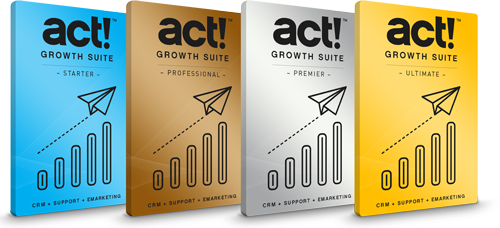 Growth Suite features & benefits
New Act! customers (click + to expand each section)

Starter

Pro

Premier

Ultimate

CRM Options (click to expand)

Act! Subscription

Act! 365

Act! CRM

Act! CRM

Act! CRM

Hosting Included

Starter includes Act! 365 which is a strictly SaaS solution with no on-premise client. The Act! CRM option is self-hosted, but can be deployed in the Cloud for an extra fee, Act! CRM supports both on-premise, cloud, or a mix of both.

Support Level

Digital

Regular

Premier

Ultimate

Calendar

See exactly what you have planned for the day from your Act! calendar

Customer Management

Keep rich customer details, emails, documents, notes, history, activities, and more in one easy to find place.

Task & Activity Management

Track and prioritize calls, meetings, and tasks - all associated with your conatcts

Groups & Filters

Organize similar contacts into groups by manual population or dynamic population based on flexible criterions you create (Dynamic not supported in Starter Edition). Groups can be used for targeted communications, marketing campaigns, or sales initiatives.

Opportunity Tracking & sales process management

Capture and manage key opportunity details, including status, value, estimated close dates, and more for every sales deal. Manage Opportunities using sample processes, or design your own to best fit your company's sales methodology.

Search

Find what you need in an instant with powerful search tools

Import Tool

Import your existing contacts into Act! with all four tiers of Growth Suite. Professional to Ultimate tier support the importing of data form other CRM's into Act!.

Analytics & reporting

Know where to focus your time and attention with analytics and reporting from your sales deals/

Integration with popular apps

Connect to popular business apps like Slack, QuickBooks Online, Shopify, and hundreds more through Zapier.

Office & Outlook integration

Interact seamlessly with MS Office and Outlook from within Act!

Call Lists & Hot Leads

Target your most interested leads with intelligent Call Lists that rank campaign recipients by level of engagement

Cloud Storage - 4GB

Additional Cloud storage purchased at $60/year/account for each additional 4GB increment required.

Mobile App

Stay connected to key Act! data where ever you go with mobile apps for IOS and Android. Mobile app for Starter Edition coming soon.

Account Management

Manage your interactions at the company or account level

Sales Pipeline Management

See a complete visual representation of your sales pipeline at-a-glance to project revenue, adjust strategy, and quickly focus efforts. In-context KPI's provide and instant roll-up of metrics like close rates, deal values, and more based on filters you apply.

Act! Insight Reporting

Guide decision making with rich, actionable insights from interactive dashboards covering individual, team, and business performance. Monitor sales, marketing, and business health KPI's to drive smarter decision making.

Google Integration

Integrate seamlessly with Google Contacts, Calendar, and History recording.

Compatible with custom tables

Included free

For only $120/year/user (Ultimate tier includes custom tables at no extra cost), you can maintain detailed, industry-specific data like insurance policies, service contracts, mortgages, or projects in an unlimited number of tables with custom tables. Works in both Windows & Web. Learn more about Swiftpage custom tables at https://www.act.com/products/features/custom-tables-manager

Free "Opt-in Manager" subscription through Keystroke.ca

N/A

3-months

6-months

12-months

The Opt-in Manager is a software application & online service that takes only a couple of minutes to setup before you can be broadcasting your pre-written opt-in request emails to all your contacts in quickly and easily. It now also includes BriteVerify.com integration for validating all your emails in one step. Exclusively for those buying Growth Suite through Keystroke.ca

Marketing Automation Features by Tier (click to expand)

Email Sends Per Month

10,000

25,000

50,000

100,000

Additional email sends per month

$5 / 1000 sends

$15 / 2500 sends

$15 / 2500 sends

$15 / 2500 sends

Additional domains per month

n/a

$50

$50

$50

Email marketing

Send beautiful, responsive campaigns to your Act! contacts & groups. Dynamically merge fields from your contacts in Act!

Interactive drag & drop template editor

Build responsive email campaigns using the drag & drop interactive editor. Get started with 170 sample templates, then customize imagery, colours, fonts, and more to fit your brand. Import photos from repositories like Dropbox, or use one of 500,000 free, high quality stock photos via Unsplash, Pexels, and Pixabay

Drip marketing

Build multi-stage drip campaigns using visual workflow designer to send a series of automated campaigns or communications to your prospects and customers. View email statistics and manage subscribers in each state of your drip campaign

Mobile & desktop preview

View desktop and mobile campaign previews to ensure your images, content, and other campaign components render perfectly before you send them

Visual workflow designer

Use the visual workflow designer, provide a graphical representation of your communication flow, to easily build your multi-stage campaigns. Edit existing stages or add new ones from this intuitive workflow view

Marketing Calendar

Get an easy calendar view of all your past and scheduled campaigns by Day, Week, or Month. You can also filter by users or show all.

Social sharing

Publish campaigns to social sites like Facebook, LinkedIn, and Twitter to engage your social networks to expand your reach. Drive traffic to your social networks with social buttons in the footer of all your campaigns

Turnkey campaigns

Quickly jumpstart your marketing efforts using turnkey, pre-built campaigns that make it easy for you to send sales promotions, sales prospecting emails, webinars and event invitations, welcome emails, ongoing newsletters, and so much more

Deliverability & compliance tools

Rest assured your campaigns will reach inboxes because AMA is backed by an expert delivery team that helps you manage your sender reputation, giving you outstanding delivery rates. Access numerous compliance tools to help with GDPR & CASL compliance, spam analysis, managing opt-outs via the unsubscribe designer where you can customize your opt-out page, global suppression against email addresses or domains, and pre-campaign exclusion lists

Surveys

Create online surveys and polls using multiple question types, including radio buttons, sliders, ratings, and more to gather information about your prospects and customers. Responses are mapped to fields in Act! automatically for richer prospect and customer profiles

Real-time campaign metrics

View real-time campaign metrics, covering opens, clicks, and comparative stats per campaign or company-wide against a time range you apply to understand the success of your campaigns and improve your marketing strategy over time. Individual campaign results push to Act! contact records automatically for a detailed, reportable interaction history.

Advanced HTML email editor

Import and edit your existing HTML templates using the WYSIWYG email editor or build new HTML campaigns from scratch

Landing pages & lead capture

Design effective lead capture forms on landing pages or embed forms on your website to grow your prospect database. New leads are automatically added to your Act! once a form is completed

Asset Tracking

Asset tracking allows you to surface videos or documents in conjunction with webforms to harvest sign-ups in your database. A great tool for controlling the release of your digital assets, which tracking audience interest.

Response-driven nurture marketing

Build highly personalized, response driven nurture marketing campaigns using the visual campaign workflow designer and let AMA do the work for you. Campaigns are automatically triggered by recipient responses based on criteria you define

CRM workflow with prioritized sales follow-up

Automate workflow between sales and marketing to maximise engagement at every phase of the customer journey. Watch as AMA turns real-time response metrics into sales actions - alerting you of new prospects, prioritizing follow-ups, and delivering a composite view of engagement in a single solution. Notify Act! users via email and create Act! activities and/or opportunities automatically based on campaign & website interactions or completed lead forms and surveys

Lead management & scoring

Use lead scoring to understand your most interested prospects based on campaign engagement, survey/web form responses, and website interactions. Prioritized leads are pushed into Act! groups automatically for easy sales follow-up. Setup automated tasks and alerts in Act! to keep deals moving and close sales faster

Website activity tracking & analytics

Identify prospects on your website in real-time to engage with them when they're most interested. See who's been on your site today, yesterday, this week, last week, or the last 30-days. Gain rich insites with the web intel dashboard for visitor profiling, interactions per visit, visitor bounce rates, traffic sources, and entry and exit pages. Web visits feed into lead scoring profiles and create activities for sales follows in Act! automatically

Advanced lead capture & surveys

Take lead capture and surveys to the next level with advanced forms and surveys that allows further actions in Act!. Create Act! activities and opportunities automatically based on recipient responses. Send notificiations to Act! users when responses come in. Even load contacts into specific campaigns automatically

A/B testing

Test specific elements of two campaigns to pinpoint your most impactful subject lines, email content, and more. Use the results to continually refine your content for improved results

Multi-stage lead profiling

Gather information about a prospect over time with multi-stage lead profiling to steadily build a rich prospect profile in Act!

Progressive Profiling

Gather information about a prospect over time with short surveys that display questions based on what you already know of a lead to steadily build a rich prospect profile in Act!

Deliverability & marketing consulting services

Accelerate your success with expert guidance designed to help you manage sender reputation, improve inbox delivery rates, comply with GDPR, build campaigns, develop templates, and more. A one-hour session is included with the advanced campaign

-

$150/hr

$150/hr

1-hour included

Regular Monthly Cost (billed annually)

$25

$37

$67

$150

Past Pro & Premium customers should contact us at sales@kqc.ca for preferred pricing.

Additional domain (per domain, per month)

n/a

$50

$50

$50

Additional email sends per month

$5 / 1000 sends

$15 / 2500 sends

$15 / 2500 sends

$15 / 2500 sends
= Included
= Included with extra cost
= Excluded
Act Marketing Automation Training Library
Learn more about Act! Marketing Automation with the Swiftpage library of training videos (40+ videos and growing). Each video is short and feature focused, allowing you to target the learning areas you need and want most.
Click on one of the categories below to start your learning.